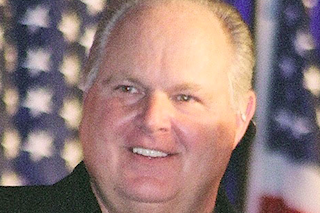 No, this post does not contain video of Rush Limbaugh dumping a bucket of ice water over his head. That's because the conservative radio host is having an incredibly difficult time understanding how the massively popular ALS #IceBucketChallenge is supposed to work.
"Obviously I haven't done it yet," Limbaugh said on the radio Monday after explaining that he had recently been challenged by a friend. "There's something about this that doesn't make sense," he added. "I think everybody's doing this wrong."
Taking the original idea of the viral charity drive extremely literally, Limbaugh noted that people are supposed to either donate $100 to the ALS Association or dump a bucket of ice water over their head. "So how are they raising money if everyone's just dumping ice on their heads?" he asked. "This is ass-backwards!"
Limbaugh then revealed that he was thinking of making a video that just shows him writing a check, a not-so-original idea perfected by Patrick Stewart and attempted by Sarah Palin.
What the host failed to grasp is that people have decided to start donating the $100 and dump the ice bucket over their heads, as a logical way of raising money and spreading the challenge to their friends. That's how the ALS Association has increased their fund raising numbers so dramatically compared to last year.
But as a "student of the language" and a "man of precision," Limbaugh cannot get over the fact that everyone is doing it wrong.
Listen to audio below, via The Rush Limbaugh Show:
[Photo via Wikimedia Commons]
— —
>> Follow Matt Wilstein (@TheMattWilstein) on Twitter
Have a tip we should know? tips@mediaite.com