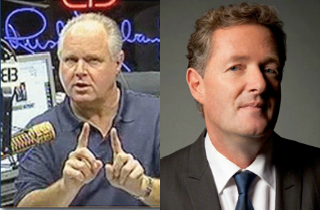 "These people wonder why they can't find viewers," conservative radio host Rush Limbaugh said of CNN during a segment of his show this afternoon. He was particularly outraged by what he considered to be CNN host Piers Morgan's "going groupie" over Iranian President Mahmoud Ahmadinejad.
Limbaugh played a clip from yesterday in which Brooke Baldwin had on Morgan to preview the Ahmadinejad interview. She asked Morgan, in seeming disbelief, whether the Iranian dictator was saying he believes he can educate someone out of being gay.
"That's exactly what he's saying, and I think he believes it," Morgan responded. "You have an example of, really, quite extreme bigotry." Morgan also mentioned that he asked the dictator whether he'd be okay with one of his children dating a Jew, noting that Ahmadinejad "astonished" him by saying he wouldn't mind it.
"Yeah, okay, but for how long?" reacted Limbaugh.
The conservative radio host then played another Morgan soundbite, in which the British host explained what he learned about the Iranian dictator:
He's a surprising character, he's unpredictable. I don't think he's mad in the way that many in the West, perhaps, prefer to see him. He's certainly a caricature figure when it comes to America. I didn't get the sense of a crazy mad man. He is at times charming and sinister and contradictory and unpredictable. And occasionally he says stuff where you find yourself nodding in agreement.
"What is it about media people that they kind of go groupie around dictators?" a peeved Limbaugh asked. "It's got to be the respect and the awe of the power the dictator has."
"Ahmadinejad is reprehensible," the host continued. "Here's a guy who just go through saying 'I can turn a gay guy straight.' 'He's charming.' You let me say that and see what they say about me. But Ahmadinejad? Charming. Not crazy, not at all," Limbaugh continued in a mock-British accent.
Listen below:
[h/t
Daily Rushbo
]
— —
>>
Follow Andrew Kirell (@AndrewKirell) on Twitter
Have a tip we should know? [email protected]