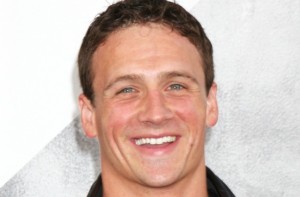 U.S. Olympic swimmer Ryan Lochte and three other swimmers were held up at gunpoint in Rio earlier today and robbed.
Lochte confirmed the news to NBC and his mother told USA Today that he called her "all shaken up" about what happened.
This is what Lochte had to say:
"We got pulled over, in the taxi, and these guys came out with a badge, a police badge, no lights, no nothing just a police badge and they pulled us over," Lochte said. "They pulled out their guns, they told the other swimmers to get down on the ground — they got down on the ground. I refused, I was like we didn't do anything wrong, so — I'm not getting down on the ground.

"And then the guy pulled out his gun, he cocked it, put it to my forehead and he said, "Get down," and I put my hands up, I was like 'whatever.' He took our money, he took my wallet — he left my cell phone, he left my credentials."
A representative for one of the other swimmers robbed also confirmed the robbery, giving this account:
"Thiago Pereira and his wife Gabriela Pauletti were in Club France, the French house in Brazil, and they were celebrating the birthday of a friend in common. Lochte was also in the same place, commemorating the same birthday. Ryan and Thiago are friends. Thiago and his wife left earlier, they left alone, the two of them. Thiago and his wife went back to their hotel. Then Thiago, on finding out what happened, called Ryan. Ryan is well, and Thiago said that the robbery, according to Ryan, was in the taxi. The taxi was robbed."
The United States Olympic Committee confirmed it hours later and said the robbery was carried out by individuals "posing as armed police officers":
United States Olympic Committee confirms @RyanLochte and 3 other swimmers were robbed at gunpoint in Rio pic.twitter.com/UiQy2uLtPr

— Bradd Jaffy (@BraddJaffy) August 14, 2016
Now, that all sounds pretty horrible, but what makes this story a little bit interesting is that the International Olympic Committee denied it earlier today:
BREAKING: IOC spokesman: Report that swimmer Lochte robbed at gunpoint 'absolutely not true,' according to Lochte and USOC.

— The Associated Press (@AP) August 14, 2016
The news was reported earlier this morning, then the IOC denied it, then everyone basically confirmed it.
Awkward.
UPDATE – 6:20 p.m. ET: Lochte has issued a brief statement on his ordeal.
BREAKING: @RyanLochte statement on armed robbery: "[W]hat is most important is that we are safe and unharmed." pic.twitter.com/mixDQN6bLe

— Peter Alexander (@PeterAlexander) August 14, 2016
[image via Helga Esteb/Shutterstock]
— —
Follow Josh Feldman on Twitter: @feldmaniac
Have a tip we should know? tips@mediaite.com
Josh Feldman - Senior Editor