Scaramucci Slams David Frum in Late-Night Tweet: 'Frum and Dumb Rhyme For a Reason'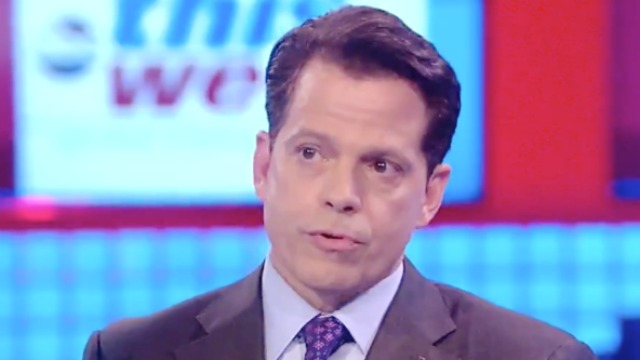 In a heated exchange on last night's Real Times with Bill Maher, former George W. Bush speechwriter David Frum lit into one-time White House communications director Anthony Scaramucci, telling The Mooch that he "helped endanger" the country.
Hours after the show went off the air, Scaramucci decided to take to Twitter to toss out a middle-schoolish slam of his talk show opponent.
Frum and Dumb rhyme for a reason. @davidfrum For all of his attacks on @potus it turns out he is just an angry liar. Doesn't check facts.

— Anthony Scaramucci (@Scaramucci) February 3, 2018
Yep, you read that right. He went with "Frum and Dumb rhyme" to totally own the Atlantic editor. Frum would respond in the morning as pretty much any adult would to a late-night tweet like this.
A grown man tweeted this? https://t.co/6SZzhjj6xC

— David Frum (@davidfrum) February 3, 2018
Meanwhile, Mooch tried to get Frum again this morning, tweeting out the following:
Ok . @davidfrum is a liar and an unstable nongenius. Tell lies on TV to create a "gotcha" moment comes across as an uncouth angry bufoon. https://t.co/v3MRV3H0DR

— Anthony Scaramucci (@Scaramucci) February 3, 2018
Sometimes, Mooch, it's best to just quit while you're already behind.
[image via screengrab]
—
Follow Justin Baragona on Twitter: @justinbaragona
Have a tip we should know? tips@mediaite.com