Scarborough Debuts New Single Inspired By Women's March, Twitter Predictably Mocks It to Death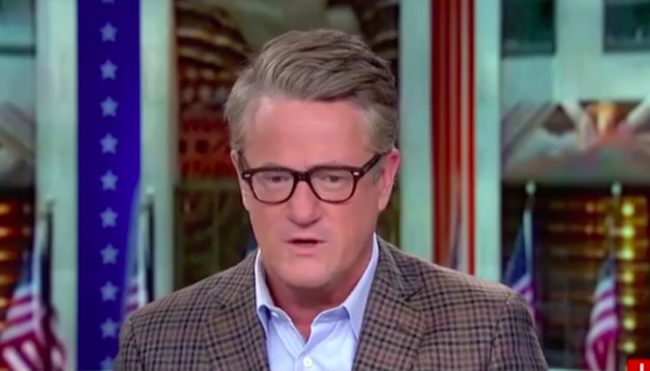 Besides this weekend being the one-year anniversary of President Donald Trump taking office and the beginning of a federal shutdown, it also represents a year since The Resistance took off. A day after Trump's inauguration, millions of women in dozens of cities around the country took to the streets to march.
With women once again planning marches this weekend to commemorate the groundbreaking and historic event, MSNBC's Joe Scarborough wanted to make sure American women knew he stood behind them. How'd he do that? Just take a listen below:
My new single is out. Inspired by the Women's March and dedicated to those who #Resist.
Mika and I salute you??https://t.co/eqg4xO4MtD

— Joe Scarborough (@JoeNBC) January 20, 2018
Yep, the Morning Joe host debuted a new single titled "Stand," dedicated to "those who #Resist." He also wanted it known that Mika Brzezinski also saluted those women.
Well, as you'd imagine, JoeScar tossing out a brand-new #Resistance-inspired song led to widespread mockery on Twitter. Because that's what Twitter does.
Well this is already the worst shutdown ever. https://t.co/22bMcacj5U

— Stephen Miller (@redsteeze) January 20, 2018
You can tell Joe Scarborough is a Real Rocker because look!—no socks. He is wearing the fuck out of those Mary Tyler Moore cigarette pants tho

— Jamie Doesn't Like Birthdays. (@thewayoftheid) January 20, 2018
what the fuck I love Trump now https://t.co/56WQTSff9i

— Kilgore Trout (@KT_So_It_Goes) January 20, 2018
Does someone interrupt you the entire song? If not, I'm not interested.

— STFUSusanSarandon (@AdirondackGypsy) January 20, 2018
Shutdown of 95: Cigars & bongo drums with interns in the Oval Office

Shutdown 13: WWII vets dropping barricades on the WH front lawn.

Shutdown 18: A new Joe Scarborough song & snacking tide pods

— Stephen Miller (@redsteeze) January 20, 2018
I was *going* to make a dick joke but then I saw that Joe Scarborough has a #resistance song dedicated to the women's march and frankly nobody can beat that. https://t.co/iavhhuGmA6

— Linda Tirado (@KillerMartinis) January 20, 2018
this tweet is worse than Flumageddon 2018 https://t.co/0GDuDH0Y2V

— Get a Grip (@LilMissRightie) January 20, 2018
Scarborough helped Trump win the 2016 GOP primary. It looks like he's trying to do it again for 2020. https://t.co/RQzE89rT3r

— Patrick Wallace (@patrickawallace) January 20, 2018
Is this an SNL sketch?

— The Concerned Citizen (@ConcrndCitizen3) January 20, 2018
— Helldoggo (@TweetsIn_HD) January 20, 2018
[image via screengrab]
—
Follow Justin Baragona on Twitter: @justinbaragona
Have a tip we should know? tips@mediaite.com