Scott Brown Staffers Caught Mocking Elizabeth Warren With Native American 'War Whoops'
Scott Brown Staffers Caught Mocking Warren With Native American 'War Whoops'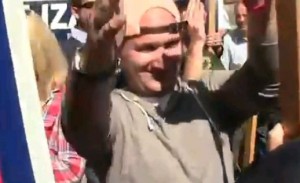 There has been some minor controversy in the Senate race in Massachusetts over Democratic candidate Elizabeth Warren identifying herself as having Native American ancestry on the law directory at Harvard. Senator Scott Brown's campaign has turned it into an issue, but today staffers from Brown's campaign were caught on video mocking Warren with stereotypical Native American "Tomahawk chops" and "war whoops" during a rally for Brown.
RELATED: Fox Panel Descends On 'Pocafibber' Elizabeth Warren After She's Confronted Over Minority Claim
WCVB confirmed that a number of staffers for Brown, including his deputy chief of staff, are pictured in the video, posted to YouTube earlier this morning by the user BlueMassGroup. When reached for comment, Brown disavowed the actions of his staffers in the video, but kept the pressure on Warren.
"It is certainly something that I don't condone… The real offense is that (Warren) said she was white and then checked the box saying she is Native American, and then she changed her profile in the law directory once she made her tenure."
UPDATE: Brown commented, saying there's "no place" for such a video in the campaign. Via The Boston Herald:
At a campaign event this morning at South Station, Brown said he had not yet seen the video, but added there was "no place" for videos like that in the campaign. He would not commit when asked whether either he or the staffer should apologize if Native Americans are offended.
Watch the video below:
h/t Raw Story
—–
Follow Josh Feldman on Twitter: @feldmaniac
Have a tip we should know? tips@mediaite.com
Josh Feldman - Senior Editor