Seahawks' Richard Sherman Walks Out of Presser: 'People Are Still Missing the Point' of Anthem Protests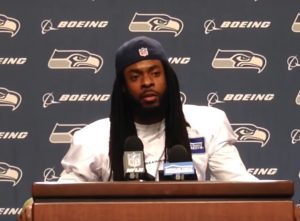 Seattle Seahawks star cornerback Richard Sherman refused to take questions at his weekly press conference Wednesday, instead using his time at the podium to speak about the recent National Anthem protests in the NFL.
"People are still missing the point," Sherman said. "The reason these guys are kneeling, and the reason we're locking arms is to bring people together, to make people aware that this is not right. It's not right for people to get killed in the street."
Video: Richard Sherman takes no questions, sounds fed up with society today. Says statements being ignored. #Seahawks pic.twitter.com/B0iPkgqENc

— Gregg Bell (@gbellseattle) September 21, 2016
Sherman cited the fact that "the last couple of days a couple more guys have gotten shot and killed in the middle of the street" as his reason for speaking out Wednesday — seeming to reference the police shootings of Terrence Crutcher in Oklahoma, and Keith Lamont Scott in North Carolina.
There's not a lot you can tell a kid. There's not a lot you can…say to inspire a person when you say, 'We need black fathers to be in the community to stay there for your kids.' But they're getting killed in the street for nothing, for putting their hands on their cars. And I think that's the unfortunate part, that's the unfortunate place that we're living in. And something needs to be done. And so when a guy takes a knee, you can ignore it. You can say he's not being patriotic, he's not honoring the flag. I'm doing none of those things. I'm saying it straight up. This is wrong and we need to do something.
For Sherman's complete statement, watch the video above via — Tacoma, WA newspaper The News Tribune.
[image via screengrab]
–
Follow Joe DePaolo (@joe_depaolo) on Twitter
Have a tip we should know? tips@mediaite.com
Joe DePaolo - Senior Editor