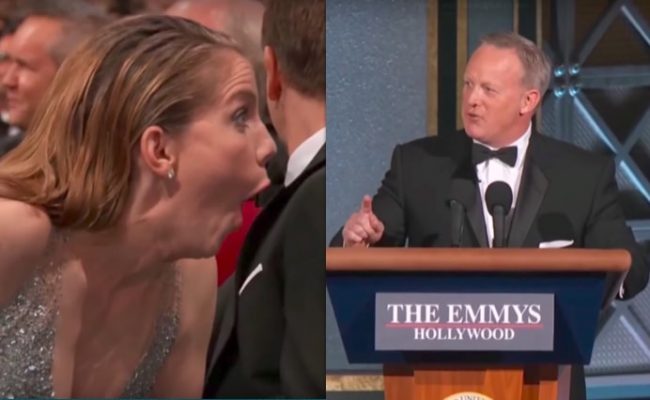 The road to image rehab can be a long one.
Former Trump Press Secretary Sean Spicer revealed he was well along the path last night during a brief star turn at the 2017 Emmy Awards.
After an introduction by Stephen Colbert, Spicer rolled up with his own wheeled podium — in a nod to Melissa Mccarthy's iconic portrayal of him on Saturday Night Live.
"This will be the largest audience to witness an Emmys, period! Both in person and around the world," said Spicer.
You get? Crowd sizes? Ok good. It was kind of funny — I guess.
The moment lasted less than a minute but for some on Blue Check Twitter, the sight of the former press secretary in any state other than public flagellation was too much to bear.
Sean Spicer is an opportunist who regularly lied directly to citizens as the spokesperson for an elected leader. Did I miss the funny bit?

— Brian Klaas (@brianklaas) September 18, 2017
The treatment of Spicer is another breakdown of political norms. If we just joke about and reward people who lie in government, more will.

— Brian Klaas (@brianklaas) September 18, 2017
… This guy must kill at dinner parties.
And it basically went from there.
I'm not ready to laugh "with" Sean Spicer. I think he is an evil, opportunistic liar that hurt our country.

— Zach Braff (@zachbraff) September 18, 2017
Spicer wins for Outstanding Achievement in Cuteness While Admitting You Were Lying The Entire Time

— John Fugelsang (@JohnFugelsang) September 18, 2017
Emmys helped Spicer pump up his "lecture" fees which is all that matters to him now. https://t.co/nzo5n8VuYx

— Lawrence O'Donnell (@Lawrence) September 18, 2017
The only acceptable reason to invite Sean Spicer on stage is to have a trap door open up under him

— Patrick Monahan (@pattymo) September 18, 2017
I don't hate Sean Spicer but I'm not willing to have a laugh with him just yet. He lied to us day after day in defense of the indefensible. https://t.co/tbdgdNiafM

— Michael Ian Black (@michaelianblack) September 18, 2017
Shame on the Emmys for the Spicer validation. He is dedicated to demeaning our craft and restricting our freedoms of speech. #Unforgivable

— Keith Olbermann (@KeithOlbermann) September 18, 2017
Remember when Sean Spicer said Hitler didn't use chemical weapons

— Carey O'Donnell (@ecareyo) September 18, 2017
Good morning to everyone except whoever thought "softening" Sean Spicer through pop culture participation would be funny and edgy pic.twitter.com/dFwovCuDm1

— Flavia Dzodan (@redlightvoices) September 18, 2017
DT is a sick liar. If we reward Sean Spicer for enabling his sickness,we are saying we accept a mentally ill POTUS.

— Rob Reiner (@robreiner) September 18, 2017
When U.S. history records the crimes of this administration—and the names of its enablers—Sean Spicer on the Emmys will be a VERY bad look.

— Seth Abramson (@SethAbramson) September 18, 2017
Follow Jon Levine on Twitter / Facebook.
Have a tip we should know? tips@mediaite.com