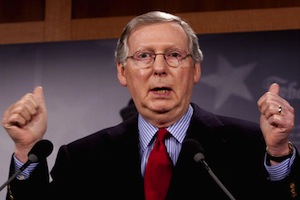 As the frenzy surrounding Mitt Romney's "47 percent" video continues in full swing, Republican lawmakers aren't keen on answering questions about the ordeal.
Talking Points Memo's Sahil Kapur reported that Senate Republican leaders " fled their weekly press conference after delivering prepared remarks Wednesday without taking a single question from reporters" — who naturally were eager to ask about the latest campaign controversy.
Senate Minority Leader Mitch McConnell (R-KY) excused himself in the middle of the availability. The rest — Minority Whip Jon Kyl (R-AZ) and Sens. John Thune (R-SD), Roy Blunt (R-MO) and John Barrasso (R-WY) — made no mention of Romney or the race in their comments and instead lamented Senate dysfunctionality and attacked Democratic policies.
Some did stop to speak with reporters as they walked away, but apparently evaded questions about Romney. Kapur offered Kyl as an example. Asked about the debacle, Kyl replied, "First of all I'm not going to get critical — your question implies there's some really big flaw in the way he's running the campaign."
Another example was Blunt's response when asked whether any Senate Republicans had expressed concern about Romney's remarks. "I just don't think we ought to talk about what was said at lunch," he replied, later commenting on Romney:
"I really don't think this is of great concern to the Senate — to members of the Senate," Blunt said. "It could have been better said, as Governor Romney himself said. But trying to get more people into the active economy should be the fundamental debate of this election. And I'm not sure it's not good for Governor Romney to go right ahead and pursue that discussion."
Meanwhile, the Romney campaign has taken to calling the video "debunked and selectively edited."
(H/T TPM)
Have a tip we should know? tips@mediaite.com