Senate Investigators Reportedly Looking at Jill Stein as Part of Russia Probe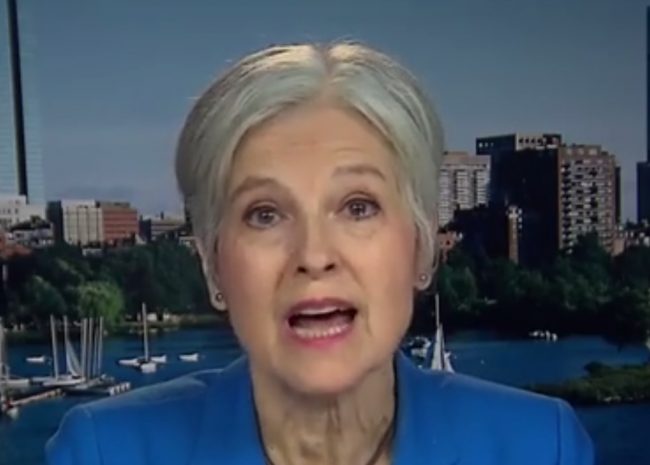 Looks like another 2016 presidential candidate has been ensnared in the Russia probe's nets. And sorry, Fox News fans, it isn't Hillary Clinton.
According to a new report by BuzzFeed News, former Green Party presidential nominee Jill Stein and her campaign are currently being looked at by the Senate Intelligence Committee as part of its investigation into Russian election meddling. A former Stein campaign worker, Dennis Trainor Jr., told BuzzFeed he had been informed by Stein to expect to be contacted by the Senate.
Trainor, who served as the campaign's communications director and acting manager during that time, told BuzzFeed News that he was informed of the committee's request because during his time on the campaign, his personal cell phone was "a primary point of contact" for those looking to reach Stein or the campaign. That included producers from RT News, the Russian state-funded media company, who booked Stein for several appearances, Trainor said.

"Then I was told by Jill just to wait for further instructions," Trainor said, adding that he was told the campaign would contact him in the next week with instructions, presumably from the Senate Intelligence Committee, for executing the document search, including precise search terms. That has not happened yet, Trainor said.
Trainor said that he's "inclined to cooperate" with the Senate committee's request but that he is going to check with a lawyer first. Also, he noted that he feels that Stein will comply with the requests as well and would likely publicly post the documents she gives to the Senate.
Stein, who ran to the left of Clinton and held a #DemExit protest at the Democratic National Convention, has been mentioned occasionally during the probe, even though it doesn't appear she's been a major focus in the past. Much of the attention on Stein would appear to revolve around her attendance of a 2015 RT dinner in which she sat at the same table as Russian President Vladimir Putin and ex-National Security Adviser Michael Flynn, who is now cooperating with the Mueller probe after pleading guilty to lying to the FBI. She's denied any involvement with Russia or that she has a relationship with Putin.
[image via screengrab]
—
Follow Justin Baragona on Twitter: @justinbaragona
Have a tip we should know? tips@mediaite.com