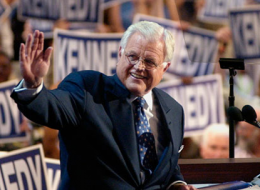 Senator Ted Kennedy died late last night at his home in Hyannis Port, succumbing to the brain cancer he has been battling for over 15 months. The 'Liberal Lion', patriarch of America's most famous political family, Kennedy served in the Senate for five decades. He was also the only brother in his family to have died from natural causes. President Obama, who is currently vacationing in Martha's Vineyard released a statement at 2am this morning shortly after Kennedy's death was announced, said that "An important chapter in our history has come to an end."
Kennedy's death comes at a difficult time for the Democrats, his absence in the embattled health care debate, a lifelong project over the five decades he served in the Senate, has been keenly felt, and Massachusetts state succession laws could keep a new Senator from being named for the next 12 months. Here's look at some of the coverage this morning including pictures and video. For a look at Twitterverse reactions go here.
Senator Kennedy was at or near the center of much of American history in the latter part of the 20th century and the early years of the 21st. For much of his adult life, he veered from victory to catastrophe, winning every Senate election he entered but failing in his only try for the presidency; living through the sudden deaths of his brothers and three of his nephews; being responsible for the drowning death on Chappaquiddick Island of a young woman, Mary Jo Kopechne, a former aide to his brother Robert. One of the nephews, John F. Kennedy Jr., who the family hoped would one day seek political office and keep the Kennedy tradition alive, died in a plane crash in 1999 at age 38.

Mr. Kennedy himself was almost killed, in 1964, in a plane crash, which left him with permanent back and neck problems.

He was a Rabelaisian figure in the Senate and in life, instantly recognizable by his shock of white hair, his florid, oversize face, his booming Boston brogue, his powerful but pained stride. He was a celebrity, sometimes a self-parody, a hearty friend, an implacable foe, a man of large faith and large flaws, a melancholy character who persevered, drank deeply and sang loudly. He was a Kennedy.


Issues of succession and the health care battle:
The death of Edward M. Kennedy immediately raises the question of who will succeed the Senator — and how quickly — as Congress is embroiled in a bitter battle over plans to overhaul the nation's health care system. One of Senator Kennedy's last public acts before he died on Tuesday was an emotional plea to Massachusetts state lawmakers that they replace him quickly upon his death….But the effort to find a quick replacement for Mr. Kennedy may prove complicated. In the week before his death, reaction to his request on Beacon Hill ranged from muted to hostile. The state's Democrats found themselves in the awkward position of being asked to reverse their own 2004 initiative calling for special elections in such instances.


This from Kennedy's Daily Show appearance in 2006.
President Obama's Statement:
"Michelle and I were heartbroken to learn this morning of the death of our dear friend, Senator Ted Kennedy. For five decades, virtually every major piece of legislation to advance the civil rights, health and economic well being of the American people bore his name and resulted from his efforts. I valued his wise counsel in the Senate, where, regardless of the swirl of events, he always had time for a new colleague. I cherished his confidence and momentous support in my race for the Presidency. And even as he waged a valiant struggle with a mortal illness, I've profited as President from his encouragement and wisdom.

"An important chapter in our history has come to an end. Our country has lost a great leader, who picked up the torch of his fallen brothers and became the greatest United States Senator of our time. And the Kennedy family has lost their patriarch, a tower of strength and support through good times and bad. Our hearts and prayers go out to them today–to his wonderful wife, Vicki, his children Ted Jr., Patrick and Kara, his grandchildren and his extended family."
The New Yorker has a roundup of all their past coverage of Kennedy here.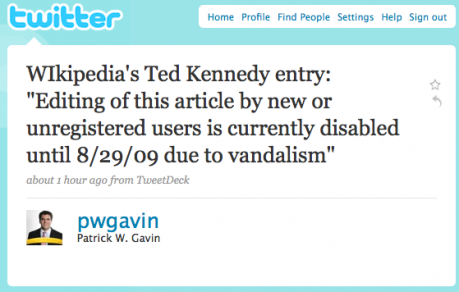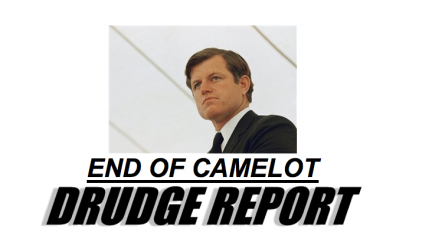 Have a tip we should know? tips@mediaite.com