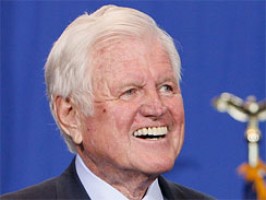 Massachusetts Sen. Edward Kennedy died late Tuesday at his home in Hyannis Port, Massachusetts, after a lengthy battle with brain cancer. The death of any legendary public figure comes with cliches, but the life and career of Kennedy was far too complex to sum up in the inevitable and hackneyed phrases (regardless of how correct they may or may not be). But since the media has never been afraid of the obvious, following is a list of the expected phrases and narratives you can expect to read and hear in the coming days.
For colleagues in the Senate (on both sides of the aisle) he was widely considered as both gracious and generous. However, Kennedy was a lightening rod for both praise and criticism, and as the coverage of Kennedy's death and career continues, we will begin to see the following narratives discussed:
The "End of the Kennedy Era" meme: Coupled with the recent passing of his sister Eunice Kennedy Shriver we will see numerous "End of an Era" headlines and story points.
The "Effect on Health Care Reform" thread : Completing the already started narrative of how Kennedy had hoped to live to see Health Care Reform passed. Many will openly wonder if the current debate will change because of Kennedy's death: is reform more or less likely to pass due to his passing?
The "Obama owes his presidency to him" narrative: Ted Kennedy famously supported Barack Obama over primary rival Hillary Clinton, a move that many see as the watershed moment that ultimately led to his Obama's election as the 44th President.
The "Kennedy's Demons" meme: A failed marraige, very public bouts with alcohol, getting expelled from Harvard…many will point to the fact that Kennedy was "all too human", which will likely be used as both a positive and a negative in reviewing his life.
The Chappaquiddick meme: Some will be quick to mention of the tragic death of Mary Jo Kopechne as way to question the Senator's character; some may go as far as wondering why Kennedy didn't serve time in jail, instead of the U.S. Senate.
The "Career Politician" meme: He was the third oldest US Senator at the time of his death. Most will point to this as an example of great service to his country, others may use this in a less favorable manner
The "Liberal Lion" meme: Kennedy was central to nearly every progressive political agenda and policy shift. His passing may be seen by some as the death of the Liberal movement in general.
The "Bi-Partisan hero" meme: The Massachusetts Senator was well loved by all members of the Senate, but the love and respect of his Republican foils such as John McCain and Orrin Hatch will be used to exemplify how he truly worked with the other side of the aisle, particularly in passing Republican bills such as "No Child Left Behind".
Have a tip we should know? tips@mediaite.com