Sens. Wyden & Udall: We Have Seen No Evidence NSA Surveillance Has Prevented 'Dozens Of Terrorist Events'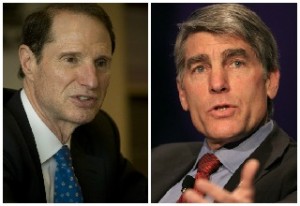 During yesterday's Congressional hearings on the NSA, agency head General Keith Alexander claimed that the NSA's massive surveillance program has successfully prevented "dozens of terrorist events," but did not go into specifics. Today Democratic senators Ron Wyden and Mark Udall called on Alexander to clarify those remarks, saying in a joint statement that neither of them have seen any evidence to support what he said.
Udall and Wyden have been two of the most outspoken Democrats bringing this issue to the public's attention. Udall was the senator who elicited the "least untruthful" answer from Director of National Intelligence James Clapper a few months ago when he denied the NSA has a program snooping on millions of Americans.
RELATED: NSA Director: 'Dozens' Of Terrorist Plots Thwarted By Snooping Programs
The two senators released a joint statement today calling on Alexander to be more forthcoming with information about which attacks have supposedly been thwarted by the program.
"We have not yet seen any evidence showing that the NSA's dragnet collection of Americans' phone records has produced any uniquely valuable intelligence. Gen. Alexander's testimony yesterday suggested that the NSA's bulk phone records collection program helped thwart 'dozens' of terrorist attacks, but all of the plots that he mentioned appear to have been identified using other collection methods. The public deserves a clear explanation."
Wired Magazine has a profile out today on Alexander's leadership and his outlook on how much power the NSA needs to keep the country safe.
h/t TechDirt
—–
Follow Josh Feldman on Twitter: @feldmaniac
Have a tip we should know? tips@mediaite.com
Josh Feldman - Senior Editor