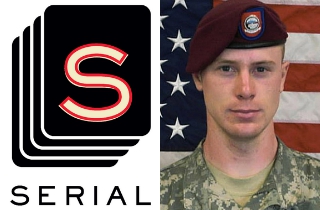 Ever since Sarah Koenig revealed that her wildly-popular podcast Serial would be taking on two new stories in upcoming seasons of the show set to begin airing this fall, there has been some wild speculation about what type of narratives she would tackle next.
The first hints dropped on Tuesday thanks to an "exclusive" report from Maxim's Matthew Farwell who spoke to "several anonymous sources" who served with Sgt. Bowe Bergdahl, the U.S. soldier who spent five years in captivity with the Taliban before he was traded by the Obama Administration for the release of five Guantanamo Bay detainees in 2014.
Bergdahl was charged with desertion earlier this year. According to Farwell's sources, Koenig and at least one other Serial colleague were seen in the courtroom during a preliminary hearing for Bergdahl's case at Fort Sam Houston in San Antonio, Texas last week.
The unnamed soldiers are apparently not happy about Serial's interest in the case, with one telling Maxim, "Anyone who tries to benefit from Bowe's situation has little interest in the truth. What happened in 2009 is both troubling and politically incorrect… my concern is that the truth is being diluted by those looking to gain from Bowe's story."
So far, the Serial team will neither confirm nor deny that the Bergdahl case will the subject of one of the two upcoming seasons. The show's production manager, Emily Condon, who also works on This American Life, provided the following statement:
"We'd very much appreciate if fellow journalists would give us some room and not feel the need to attempt to dig into and try to figure out what you think we might be doing, especially since we're actively reporting stories, and having a bunch of wild speculation out there makes our job reporting harder. Doesn't feel very menschy. In any case, here's what I can tell you: The Serial staff is currently working on several things simultaneously: Season 2, Season 3, and some other podcast projects. For now we're not talking publicly about anything that we're working on."
Unlike the subject of the show's first season, the previously low profile murder case of Adnan Syed, the Bergdahl story is already national news and is certain to draw an enormous amount of attention from the start. For now, we can still hold out hope that the show will dedicate one of its new seasons to the Brian Williams story.
[Photo via screengrab]
— —
>> Follow Matt Wilstein (@TheMattWilstein) on Twitter
Have a tip we should know? tips@mediaite.com