'She Sets a Standard That Lesser Mortals Can Only Dream of': New Hillary Emails Drop
A whole new batch of Hillary Clinton emails dropped tonight, and they include some more behind-the-scenes looks at communications between the former Secretary of State and the people around her.
First off, behold this incredibly over-the-top praise of Hillary Clinton as more than "lesser mortals":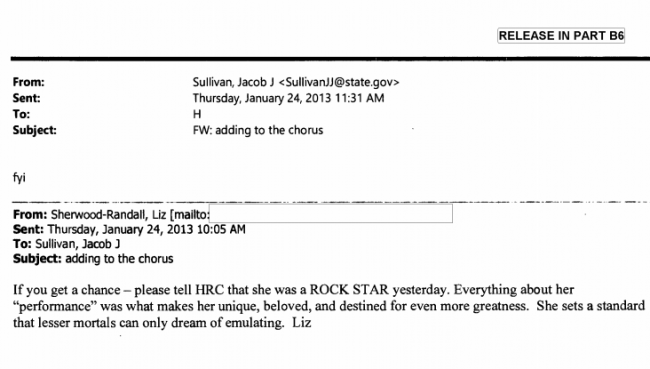 And the people around her also praised her for her 60 Minutes joint interview with President Obama in early 2013:
Hillary asks an aide what he thought of her 60 Minutes appearance & you won't believe what happens next pic.twitter.com/LUxGSlf8B2

— Noah Pollak (@NoahPollak) January 30, 2016
And there appear to be some cryptic references to a mutual friend of Clinton and successor John Kerry's:
no seriously who is Hillary Clinton and John Kerry's "friend" here? pic.twitter.com/j2KHP33IDi

— Colin Campbell (@BKcolin) January 30, 2016
more on Hillary/Kerry's friend. now discussions involve the White House. also Kerry writes things like "u r" pic.twitter.com/Sx5AufNFm1

— Colin Campbell (@BKcolin) January 30, 2016
There's also a semi-amusing revelation that Chuck Schumer, who currently serves as a New York senator and used to do so alongside Clinton, was "happy she left the Senate":
Philippe Reines on Chuck Schumer: "he's just so happy" Clinton "left the Senate" pic.twitter.com/N4vrKUJ1MY

— Jessica Taylor (@JessicaTaylor) January 30, 2016
Clinton even wondered in one email if President Obama was really going to a Nelson Mandela event a year before he died amid the fiscal cliff crisis:
— Jimmy (@JimmyPrinceton) January 30, 2016
Oh, and then, of course, a reminder of how things work in Washington:
Jake Sullivan says he "spun" the State Department press corp but he's not sure if it worked. https://t.co/EZvbn6MOGO pic.twitter.com/LAE1BRW05q

— Byron Tau (@ByronTau) January 30, 2016
And remember, this batch does not include the 22 emails the State Department deemed top secret.
We'll update this post with any more emails of note.
[image via screengrab]
— —
Follow Josh Feldman on Twitter: @feldmaniac
Have a tip we should know? tips@mediaite.com
Josh Feldman - Senior Editor