'She's Running': Twitter Blown Away by Oprah's Electrifying Golden Globes Speech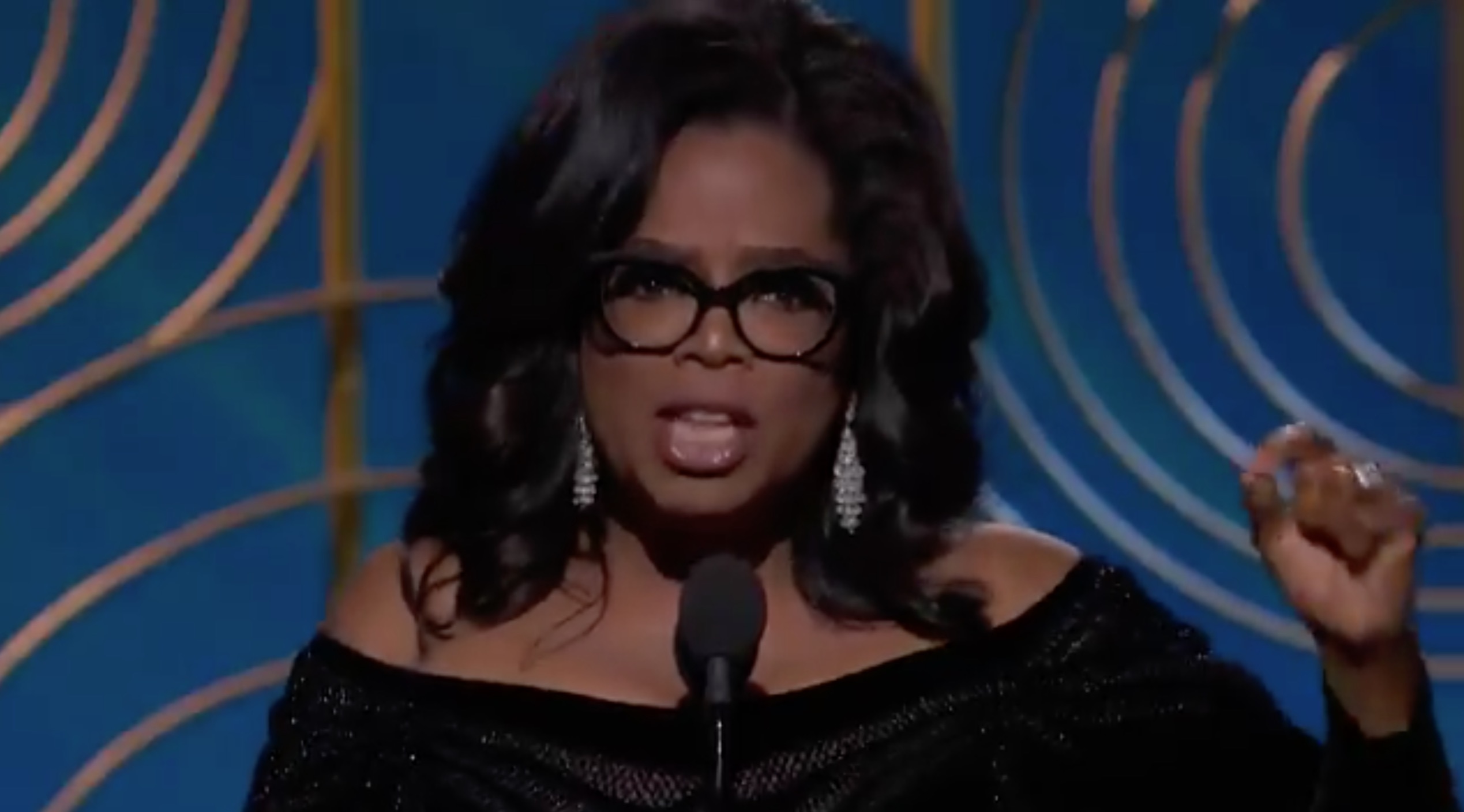 Oprah Winfrey, accepting the Cecil B. de Mille Award "for outstanding contributions to the world of entertainment" at the Golden Globes, delivered a powerful speech rejecting harassment that brought the room to tears and sounded awfully…presidential.
Oprah is often teased for her supposed presidential ambitions, and has returned the favor on more than one occasion — she even recently responded to a John Podhoretz article calling her Democrat's best hope for 2020 thanking the columnist for his "VOTE of confidence!"
So in light of her electrifying speech at the Golden Globes, Twitter was all abuzz about the potential of Oprah 2020.
She's running.

— James Poniewozik (@poniewozik) January 8, 2018
Fuck 2020, Oprah 2018

— Super Deluxe (@superdeluxe) January 8, 2018
In the time it took Trump to fix a tweet he screwed up, Oprah locked up all the Dem superdelegates. https://t.co/zRyeEINGQC

— Matt Fuller (@MEPFuller) January 8, 2018
Obviously stuff changes if Oprah ever ran… Campaigns are tough business… I'm just saying it's not the nuttiest thing I've ever heard…

— (((Harry Enten))) (@ForecasterEnten) January 8, 2018
Oprah 2020!!!

— Keith Boykin (@keithboykin) January 8, 2018
She's running. https://t.co/o3zEki6yLH

— Bill Kristol (@BillKristol) January 8, 2018
OPRAH FOR EVERYTHING. #goldenglobes

— Liz Plank (@feministabulous) January 8, 2018
i'm ready to vote for oprah please

— Shea Serrano (@SheaSerrano) January 8, 2018
Our president is giving her state of the union.

— roxane gay (@rgay) January 8, 2018
Some have even began speculating on running mates:
Winfrey / Portman 2020

— Dave Itzkoff (@ditzkoff) January 8, 2018
Oprah-Yates 2020

— Jennifer Rubin (@JRubinBlogger) January 8, 2018
And she's even locking down swing voters:
My husband voted for George HW Bush (once) and George W Bush (twice) and just said, "I'd vote for #Oprah for President." #goldenglobes

— Shannon Watts (@shannonrwatts) January 8, 2018
Of course, you can't run as a Democrat without a coveted endorsement from Obama campaign strategist David Axelrod:
.@Oprah is a force of nature.

— David Axelrod (@davidaxelrod) January 8, 2018
And if that weren't enough to get the speculative juices running, NBC sent out a tweet BEFORE Oprah's speech:
Nothing but respect for OUR future president. #GoldenGlobes pic.twitter.com/h4hkjewu0K

— NBC (@nbc) January 8, 2018
Watch the speech here.
[image via screengrab]
—
Follow Aidan McLaughlin (@aidnmclaughlin) on Twitter
Have a tip we should know? tips@mediaite.com
Aidan McLaughlin - Editor in Chief