On the day of President Donald Trump's inauguration, Shia LaBeouf launched an art project called "He Will Not Divide Us." The Museum of the Moving Image in New York City set up a camera on the outside of the museum. According to the project's website, "the public is invited to deliver the words "HE WILL NOT DIVIDE US" into a camera mounted on a wall outside the Museum of the Moving Image, New York, repeating the phrase as many times, and for as long as they wish." It would be open all day every day until Trump was no longer president.
While a lot of the time, "He Will Not Divide Us" was what it was meant to be and served as a way to peacefully protest, it did have some issues pretty much right away. Just a few days after it launched, LaBeouf was arrested following an altercation with someone who came to the Museum and allegedly said "Hitler did nothing wrong."
Today, according to the "He Will Not Divide Us" website, "On February 10, 2017, the Museum of the Moving Image abandoned the project. The artists, however, have not."
According to TMZ, the museum says they shut down the project because its site became a "flashpoint for violence." Where the live stream once was, the live video simply says "The museum has abandoned us":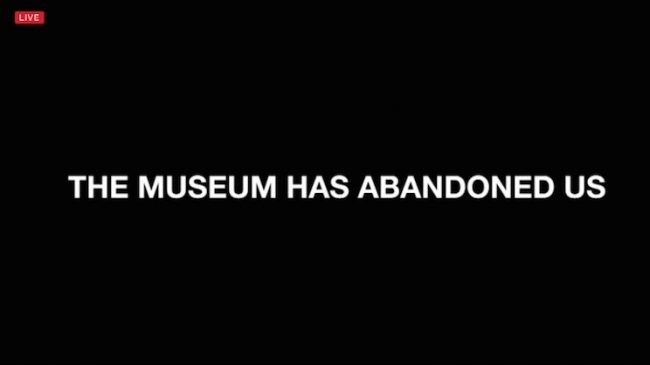 That didn't last long. The point about artists not abandoning the project, though, suggests that maybe it will pop up elsewhere or in a different form.
[images via screen grab/HeWillNotDivide.us]
Have a tip we should know? tips@mediaite.com