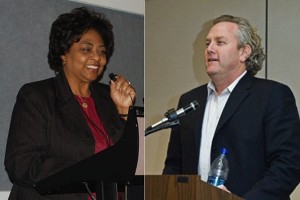 Last July, Shirley Sherrod promised that she would sue Andrew Breitbart over the video that led to her losing her job at the USDA. This weekend, she proved that those comments were accurate and not, you know, selectively edited lies. Breitbart was served with the lawsuit while at CPAC.
For those of you who don't remember, the Sherrod story absolutely consumed the news for a few weeks this summer and gave us the fun new term "Sherroding" (sher·rod – 1. verb, to publish comments made by a person in an edited fashion so as to imply their overall message was different than it actually was typically for political gain, 2. noun, a cold-water fish found in Canada). Sherrod was an employee of the USDA who gave a speech at an NAACP banquet in which she described how she overcame her racial prejudices to be come a better person. A video of the speech was posted on Breitbart's BigGovernment.com but was edited to remove the overcoming parts of her speech, leaving only the racial prejudices part. An uproar quickly arose and Sherrod was fired from her job by higher ups in the Obama administration. It was only then that someone pointed out what Sherrod actually said which led to an even bigger uproar and an apology from the President himself.
Breitbart has responded to the lawsuit in the form of a press release that doesn't mention Sherrod by name, instead linking her to the ongoing Pigford settlement. From Big Government:
"Los Angeles, CA, February 12, 2011 – Breitbart.com LLC announced today that its Chairman and CEO Andrew Breitbart and the head of Breitbart.tv, Larry O'Connor, have been sued in the Superior Court of the District of Columbia by a central figure in the Pigford 'back-door' reparations case. The Pigford case involves over $2.5 billion in US taxpayer money and constitutes one of the biggest cases of corruption
and politically-motivated fraud in the history of the United States. Mr. Breitbart and Breitbart.tv have been investigating and reporting on the Pigford case since late summer 2010.
Andrew Breitbart said, in response to being sued, 'I find it extremely telling that this lawsuit was brought almost seven months after the alleged incidents that caused a national media frenzy occurred. It is no coincidence that this lawsuit was filed one day after I held a press conference revealing audio proof of orchestrated and systemic Pigford fraud. I can promise you this: neither I, nor my journalistic websites, will or can be silenced by the institutional Left, which is obviously funding this lawsuit. I welcome the judicial discovery process, including finding out which groups are doing so.'"
Aw, news stories from the summer returning to the headlines. It's like running into your summer camp girlfriend during the summer. It's nice, but will the spark still be there?
Have a tip we should know? tips@mediaite.com