Shouting Matches Erupt in Supermarket Between Anti-NRA Protestors and Trump Supporters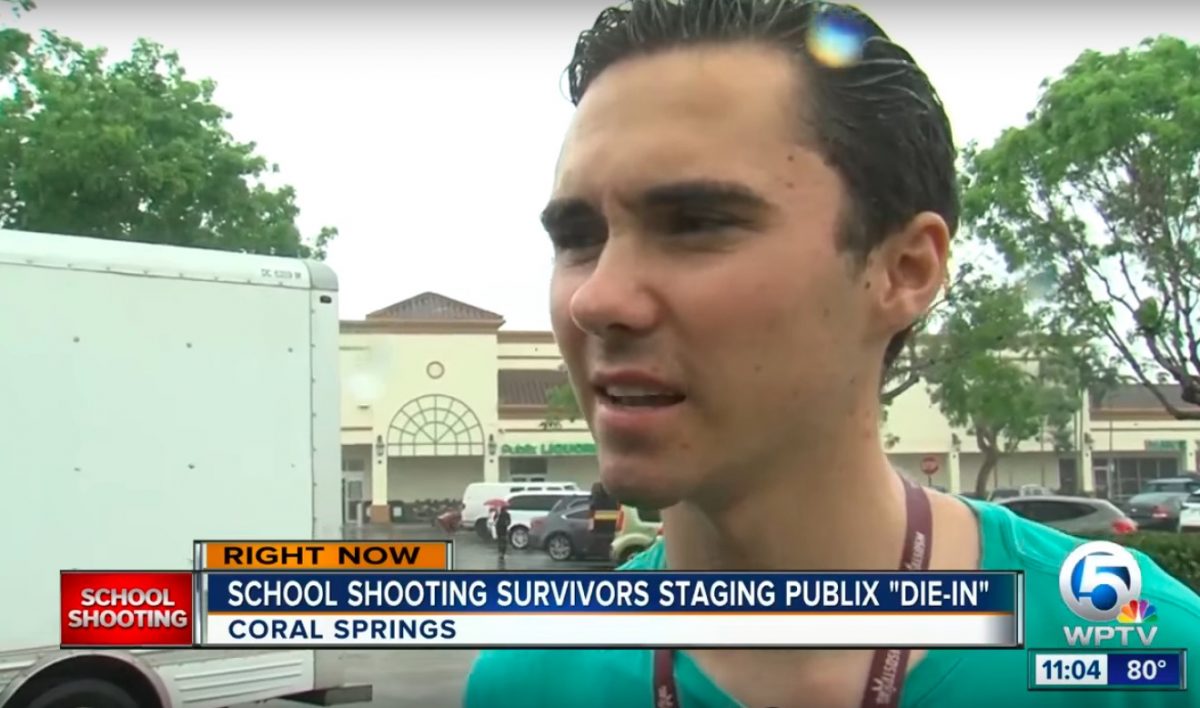 Shouting matches erupted at a Florida supermarket after pro-Trump shoppers confronted participants in an anti-gun protest on Friday.
Parkland survivor David Hogg organized a protest at a Publix supermarket in Florida in response to the chain's donations to a Florida candidate for governor who supports the NRA.
The Florida supermarket giant, known as the state's largest private employer, donated $670,000 over three years to Adam Putman, a gubernatorial candidate who has called himself "a proud NRA sellout."
That drew the attention of Hogg, who along with other survivors of the Marjory Stoneman Douglas High School shooting that killed 17, led "die-in" protests in a few Publix locations on Friday:
Protesters doing a "die in" at @publix in Orlando to protest grocers contributions to @adamputnam pic.twitter.com/fs49nYwcnG

— Kyle Arnold (@kylelarnold) May 25, 2018
Publix soon announced that it would be suspending its political contributions.
"We would never knowingly disappoint our customers or the communities we serve," a spokesperson said, per the Tampa Bay Times. "As a result, we decided earlier this week to suspend corporate-funded political contributions as we re-evaluate our giving processes.
In one video a shouting match erupted between the die-in protestors and some apparently pro-gun shoppers. One man can be seen wearing a Trump-Pence 2016 t-shirt, and exclaims to the camera: "Waoouuuhhh!"
VIDEO: The die-in protest at Publix in Coral Springs turned into a shouting match between protesters and Trump supporters. @MikeMagsCBS12 is there. Latest at 5. https://t.co/EU0vygBgbG pic.twitter.com/Xa4r08a8x9

— WPEC CBS12 News (@CBS12) May 25, 2018
'Where shooting is a pleasure:' Parkland school shooting survivor and activist David Hogg organized a 'die-in' protest at a Publix supermarket in Coral Springs today. Inside, they were met with shouts from National Rifle Association supporters >> https://t.co/nhFfywze9i pic.twitter.com/IoDM4BwjyG

— WTXL ABC 27 (@abc27) May 25, 2018
Demonstrators holding a die-in at Publix to protest the grocery's $670,000 campaign donation to support FL gubernatorial candidate Adam Putnam, a staunch gun rights advocate and self-proclaimed "NRA sellout" pic.twitter.com/ti11zXIqMX

— Joey Roulette (@JRouRouRou) May 25, 2018
In another video, an adult man in a parking lot yells "NRA!" and "USA!" at cameras:
#MSD shooting survivor @davidhogg111, while speaking about his "Die In" protest at a Parkland-area Publix, received harsh treatment from several residents. @HankTester will have details of the harassment & the protest tonight on the CBS4 News at 11. pic.twitter.com/rxe8POGmzy

— CBS4 Miami (@CBSMiami) May 25, 2018
Have a tip we should know? [email protected]
Aidan McLaughlin - Editor in Chief