Skip Bayless: 'I Am Embarrassed to Share the Same Skin Color' as MLB Player Who Put Out Racist Tweets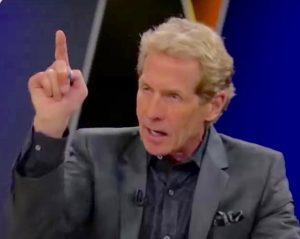 Steve Clevenger, a backup catcher for the Seattle Mariners, put out two racist tweets on his Twitter account Thursday.
"Black people beating whites when a thug got shot holding a gun by a black officer," one of the tweets read. "Haha shit cracks me up! Keep kneeling for the Anthem!"
Mariners catcher Steve Clevenger tweets racist things, but doesn't want you to think he's racist. https://t.co/Nn6Nb8gibz pic.twitter.com/hYhWCuIgBQ

— SB Nation (@SBNation) September 23, 2016
Clevenger apologized later in the day and deleted the tweets. But that didn't stop Skip Bayless from blasting him on Friday's edition of Undisputed.
"I am ashamed to share this man's skin color," Bayless said.
Skip Bayless responds to Mariners catcher Steve Clevenger's tweets. pic.twitter.com/6OGZOGsrS9

— UNDISPUTED (@undisputed) September 23, 2016
Bayless added:
I am appalled that another white American — a professional athlete no less — is capable of typing these thoughts in a public forum, in two different tweets, and actually hitting "send." You want to talk about showing your true colors in public?
The Undisputed host also took the Seattle Mariners to task for not releasing Clevenger from the team.
"How can the Seattle Mariners say they're just 'looking into these tweets' and continuing — even though he's on the 60-day disabled list — letting this man represent that organization?" Bayless said.
I am embarrassed to share the same skin color as Steve Clevenger https://t.co/cwo1ppO6Rx

— Skip Bayless (@RealSkipBayless) September 23, 2016
Watch the video above, via Fox Sports 1, for more.
[image via screengrab]
UPDATE 12:30 p.m. ET – USA Today is reporting that the Mariners have suspended Clevenger without pay for the remainder of the 2016 season.
–
Follow Joe DePaolo (@joe_depaolo) on Twitter
Have a tip we should know? tips@mediaite.com
Joe DePaolo - Senior Editor