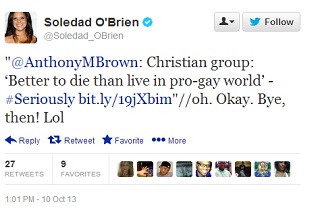 Former CNN host and current Al Jazeera America Special Correspondent Soledad O'Brien has badly hurt the feelings of anti-gay conservatives by tweeting her consent for them to die. Openly gay-hostile Newsbusters says "Soledad O'Brien Hints Social Conservative Group Should Commit Suicide," but a careful reading of O'Brien's tweet shows that she's actually silent on the manner of death, and that like The Safety Dance, they should only die if they want to.

O'Brien was re-tweeting a link to a blog post about The Family Leader, and added her vociferous agreement:
"@AnthonyMBrown: Christian group: 'Better to die than live in pro-gay world' – #Seriously http://bit.ly/19jXbim "//oh. Okay. Bye, then! Lol
Unfortunately, Gay Star News' Joe Morgan took liberties with the use of quotation marks in that headline. What he's actually referring to is this portion of The Family Leader's screed:
To paraphrase a quote from Winston Churchill:

"If you do not fight when you have a chance of winning, you will eventually fight when you have no hope of winning, because it will be better to die than to live."
In that context, it sounds like they're saying to fight now, or wish for death later, or maybe die fighting, who knows? Whatever they meant, Soledad is absolutely right, they are laugh-out-loud funny, because they're warning against homosexual "attacks" on businesses, like this:
Another example of homosexual activists going after businesses is Barilla Pasta:
Yes, where do homosexuals get off buying other brands of pasta, when the CEO of Barilla Pasta said gays can go eat another brand of pasta?
That grievance caps off a list of nine such "assaults" on religious liberty, which include businesses being sued for discriminating against gay people, The Disney Channel featuring a lesbian couple in a TV show, and an angry bear assaulting a preacher, and being immediately arrested for it. We Shall Overcome, but not in the gay, filthy way you're now imagining us doing!
The punchline to this textbook example of anti-gay Christendom's fundamental misunderstanding of persecution, as the inability to persecute, is Newsbusters' summation:
O'Brien wasn't alone in her anti-conservative snark. Several people replied to her Tweet with a similar attitude. One wrote, "Good riddance, let alone for the anti-gay attitude." Another later added, "You won't be missed!" As if further proof was needed that "tolerance" is a one-way street for too many on the left.
Try to get this straight: tolerance does not include tolerating bigotry.
Have a tip we should know? tips@mediaite.com