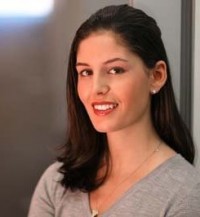 Big move in the social media world: Soraya Darabi, manager of digital partnerships & social-media marketing at the New York Times, is leaving the Gray Lady to join real-time sharing and collaboration site Drop.io as product lead for their new PR tool, PressLift.
It's big news for social media types because in the exploding social media milieu of the past few years, Darabi has been a constant, having launched the NYT's social media presences in 2007, coaxed many an NYTer onto Twitter and has personally been a distribution arm for NYT content on her own Twitter feed — with 479,995 followers she's one of the more popular NYTers on Twitter (Twitterholic ranks her 29th in NYC). She was also behind the NYT's multimedia Inauguration Day Facebook campaign, which won first prize at the INMA Awards for excellence in marketing (and encouraged excellence in hipster patriotism). Darabi's department grew in prominence last May when the NYT appointed a full-time social media editor, Jennifer Preston, signaling that social media efforts were an essential element of news distribution and an active online community.
Darabi announced her departure this morning on her Facebook page and Twitter feed — but not where she was going. Mediaite has confirmed with Darabi that she will be joining Drop.io to help launch PressLift, a new tool for PR professionals to share multi-media materials (without annoyingly clogging inboxes). Critically for those PR professionals, PressLift will not only provide a platform for distribution but a tracking tool to measure penetration and use.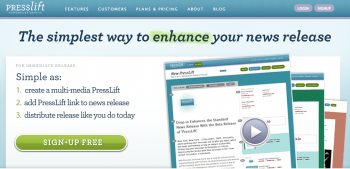 PressLift has been in beta so far, but here's an example of its use: This page for RobinHoodNYC's holiday fundraising campaign. (Readers may be aware that I am assisting on the promotion for this campaign, and Darabi, who is also a friend, is on that committee as well; however, I learned of her connection to Drop.io this morning.) As you can see from the Robin Hood example, PressLift is social-media enabled with direct Twitter and Facebook buttons (I tested out the FB one here), download and embed options, and links to related media. (It's also useful in that it puts essential material 'in the cloud' rather than having big files tied to your hard drive.)
Drop.io VP of business development Steve Greenwood told Mediaite via email that they had noticed a lot of public relations professionals using their sharing application, so they developed PressLift specifically for that use, including search engine options, embargo period functionality and FTC compliance, as well as the rich media options demanded more and more by the journalists, bloggers, and potential sponsors/partners/business interests that are their targets.
Here's the laundry list of features Greenwood sent me via email:
PressLift features:
– Multi-media: upload all your videos, pictures, audios, documents, text, website links and more
– Search engine / Social media: 1-click sharing via Facebook and Twitter, optimized for search engine indexing
– Checkpoints & safeguards: embargo periods, FTC guideline compliance, NDA, terms & condition and more
– Tracking & Reporting: real-time metrics, Google Analytics integration and built-in tracking
– Simplicity: designed to complement the current process of writing a news release and traditional distribution services – what PressLift does (and what drop.io focuses all our energy on) is content-sharing and that is what PressLift is 100% focused on doing so the public relations professional can write the news release anyway they want and distribute it anyway they want…and PressLift will provide a best-in-class service to share the content
We asked Darabi about the move and she told us via email that while it was bittersweet she couldn't pass up the chance to join a savvy NYC start-up: "The New York Times was my home for over two years. I loved every bit of of the job. I've had the itch to work for a start up for a short while. I am in awe of what the drop.io team is producing, and so quickly. So I felt proud when they asked me to come on board." Perhaps she coached Greenwood in his own impressively press-savvy statement: "We are thrilled to have Soraya join the drop.io team and become PressLift's product lead as she is uniquely positioned to understand the features and benefits of this user community." (A more impromptu-sounding statement is to be found on Darabi's Facebook announcement from NYT tech writer Vindu Goel: "Soraya, what are we going to do without you?" Aw.)
Well, maybe they'll start using PressLift — since according to Greenwood it's set to launch "soon, as in weeks." (They just cautiously put it out there on Twitter and Tumblr). Do we need another place for pleading PR emails to send us? Dropio's betting yes, and looking at its millions of users as proof (also it should be noted that Time named it one of the year's 50 best websites). Decide for yourself by checking out the Robin Hood demo, or Drop.io's quick videos below.
NB: PressLift was built on Drop.io's open API, so nerds with ideas, get thinking.

Intro Video from Drop.io:

PressLift: How-To

Have a tip we should know? tips@mediaite.com