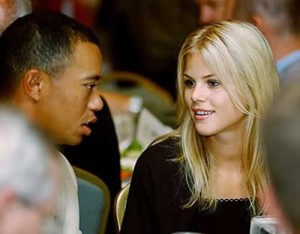 It's the weekend, which means it's time to separate the chumps from the champs in Mediaite's "Winners and Losers" — our scorecard of who rocked and who flopped in the week's headlines.
I'd hoped something newsworthy — like an typhoon or solar flare or another boy-less balloon — might pop up midweek and eclipse the Tiger Woods saga as the world's most-talked about story.
It didn't. So, reluctantly, here are the winners and losers of the Tiger Woods car crash/cheating saga and subsequent media frenzy.
LOSER
Tiger, who went from bland but beloved megastar to disgraced moral failure as quick as one can mangle a Cadillac.
WINNER
TMZ — Celebrity scandals like this are the bread and butter of Harvey Levin's rumor mill. And with no qualms about undisclosed sourcing, the gossip site easily scooped the traditional media on the most sordid details. But unlike when Jacko died, old media outlets were quick to quote TMZ's Tiger tidbits as reputable news. The AP and ESPN even recycled their exclusive crash photos. And with that, TMZ  slips further into the mainstream.
LOSER
Golf enthusiasts, who saw their world of perfectly pressed khakis and meticulously manicured greens tarnished by scandal and deceit. Because, as it turns out, the golf legend is not a saint. The Golf Channel is particularly heartbroken, lamenting the news as the "end of an era, the end of Tiger as heroic and untouchable. He is simply human now, like us." Wow.
WINNER
The Florida Highway Patrol, which may be the only party to emerge from this mess with any dignity. Contrary to wild speculation about search warrants and domestic violence charges, troopers handled this case by the book — Tiger didn't want to talk, so cops took 'no' for an answer, issued a $164 careless driving citation and closed the case. If only that were the end of public fascination.
LOSER
Harry Reid. Yes, the scandal is so pervasive, even the Senate Majority Leader is keeping tabs. According to CNN, Reid blew off reporters actually interested in Afghanistan, quipping "get the answers from Tiger Woods" as he darted out of a closed-door briefing. Maybe invoking the embattled athlete seemed like a good escape strategy, or maybe Reid was showing off his pop culture prowess? It was lame either way.
WINNER
The New York Post — The pun-happy paper continues to cash in with fun, albeit deceptive, tabloid covers. The best: Tuesday's "EXCLUSIVE" entitled "Tiger and Me: Beautiful 'other woman' reveals the truth about relationship with sports' biggest star." (You see, the cover craftily implies an admission from rumored mistress Rachel Uchitel. Inside: a full denial.) The second best: Wednesday's Mad Magazine-like photoshop job and accompanying cheater/'cheetah' wordplay.
LOSER
Me, for perpetuating this stupid story.
Have a tip we should know? tips@mediaite.com