Spokesperson Explains Hermans Cain's Quip About Anita Hill's Support: 'It Was A Joke'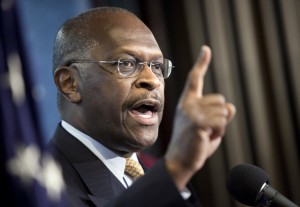 Herman Cain likes to tell jokes. The former chairman and CEO of Godfather's Pizza has joked that, if elected president, he'd put a Godfather's Pizza kitchen in the White House, and also claims he was "just joking" when he brought up the idea of placing an electrified fence along the U.S.-Mexican border.
RELATED: JK LOL: Herman Cain Was Joking About An Electric Border Fence, Unless He Wasn't
Now, Cain a new bit to his growing list of material. Have you heard the one about Anita Hill?
During a campaign event in Kalamazoo, Michigan, Cain responded to a voter's question about Anita Hill — who became a household name in 1991 after alleging that then-U.S. Supreme Court nominee Clarence Thomas had made harassing sexual comments to her as her supervisor at the U.S. Department of Education and the Equal Employment Opportunity Commission — by asking "Is she going to endorse me?"
A spokesperson for Cain gave an explanation: 1) He was merely repeating a question asked to him and 2) "It was a joke."
Now, whether or not Cain is guilty of one, some or all of the allegations of sexual harassment and assault that have been lobbed against him, his attitude regarding these has continually ranged from dismissive to defensive to outright mocking. Of course Cain is presumed innocent until proven guilty in a court of law, particularly since the American public has yet to hear all the facts and details associated with these allegations. But the fact remains that he's a public figure running for office amid several allegations of behavior ranging from unprofessional to unlawful, and his treatment of this scandal has the potential to speak volumes about his personal values and his character. Yet, instead of treating this as an opportunity to show himself as a person who empathetic, thoughtful and measured, he has approached these women's allegations by trying to silence them, attacking their character and financial backgrounds, and mocking the situation entirely.
Rise above it, Mr. Cain, especially if you have nothing to hide and no skeletons in your closet. There is a way of addressing the allegations against you in a manner that is firm, confident and takes no guff without coming across as defensive and abrasive or making a mockery of victims of sexual harassment in the process.
h/t PolitickerNY
Have a tip we should know? tips@mediaite.com