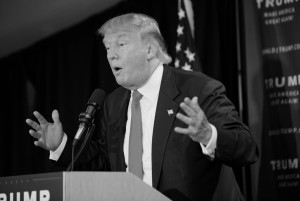 Take a very careful note of where you are right now.
This will be the moment in history your kids will ask you about… Where were you when Donald Trump admitted he was wrong?
It's simply never a day any of us could ever expect to see out of the boisterous Republican candidate for President, the man who has quadrupled down on such outlandish claims like seeing "thousands" of New Jersey Muslims dance after 9/11 and insisting that John Miller is a real guy.
But on this day — Friday, August 5, 2016 — Donald Trump awoke from his gold-plated slumber and took to Twitter with the following note:
The plane I saw on television was the hostage plane in Geneva, Switzerland, not the plane carrying $400 million in cash going to Iran!

— Donald J. Trump (@realDonaldTrump) August 5, 2016
Don't worry; I've also screengrabbed the above Tweet in the event that he deletes it, a social media practice that we all know the real estate titan is capable of.
But this is simply unprecedented. After days of scrutiny about the veracity of his claims that he saw video of "money pouring off of a plane" in Iran, it would appear that he was… wrong? Incorrect? Not truthful?… and admitting it? This is such uncharted territory I'm unclear how to even cover it for Mediaite.
Trump is now saying that the video is of the hostage plane, the same video everyone else has seen by now. He told a crowd in Daytona Beach, Florida on Wednesday:
"I'll never forget the scene this morning and remember this, Iran — I don't think you've heard this anywhere but here — Iran provided all of that footage, the tape of taking that money off that airplane, right, $400 million in cash. How does a president do that? How do you do that?"
People suspected that since the GOP nominee is now privy to classified national security briefings that he let slip something he should not have. That, or he was wrong, though he strangely went into great detail this week to describe what the video showed.
"Now here's the amazing thing. Over there where that plane landed, top secret, they don't have a lot of paparazzi, you know the paparazzi doesn't do so well over there, right, and they have a perfect tape done by obviously a government camera, and the tape is of the people taking the money off the plane, right. That means in order to embarrass us further Iran sent us the tapes, right. It's a military tape. It's a tape that was a perfect angle, nice and steady. Nobody getting nervous because they are going to be shot, because they are shooting a picture of money pouring off of plane."
It definitely seems suspicious. Is Trump now trying to cover up the fact that he mouthed off about a security briefing by simply tweeting he was wrong? Does this mean that there is actually something more important in the world that Trump's tangential tango with the truth?
The world may truly never know. But regardless, we'll all remember where we were on this day when Donald J. Trump did the unthinkable.
—
J.D. Durkin (@jiveDurkey) is an editorial producer and columnist at Mediaite.
This is an opinion piece. The views expressed in this article are those of just the author.