Actor Graham Beckel Appears Live on CNN to Absolutely Slam 'the Post-Colonial Victim Shit'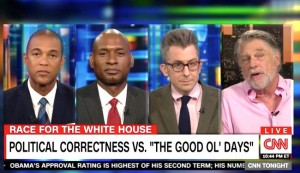 What the hell happened here?
I'm still trying to piece together the absurdity of the CNN panel Thursday night during Don Lemon's program that featured Michael Haney of Esquire, NYT's Charles Blow, and of course, the force no political panel is complete without: highly-recognizable Hollywood character actor Graham Beckel. And yes, he's the brother of Bob Beckel.
The topic at hand was Clint Eastwood's assertion today that there is a rising "pussy generation" offended by Donald Trump's rhetoric. Eastwood said, "We're really in a pussy generation. Everybody's walking on eggshells…. When I grew up, those things weren't called racist."
Beckel Thursday night agreed with his pal Eastwood, calling any accusations of racism against Eastwood, "dim-witted and slandelous [sic]" as his bizarre ramblings seemed to conflict so much with Charles Blow's opinions that at one point, Blow directly stated:
"I don't know what this man's talking about."
"Clint's 86-years-old," offered Beckel. "Everyone in Hollywood kisses ass, except for people with a tremendous amount of integrity, he being one of them," he said of the legendary actor and Gran Torino director. He accused the CNN host and his contributors of over-reading racism into a story where none exists.
Beckel devolved into a story of working alongside Eastwood "on a movie in San Quentin prison," and earning the respect of the prisoners in the yard while they were there shooting. "Why?!," Beckel continued outraged. "Because he's the masculine ideal! He's the guy who tells it like it is!"
"I don't get what the racist thing is!" he concluded to the confusion of everyone else on the show before continuing, "–the post-colonial victim shit." He promptly offered an apology for his slip-up, before getting into his own impressive sparring match with Blow directly.
As Charles Blow once wisely put it… I don't know what this man's talking about. Maybe you do; watch the above interview from CNN to figure it out for yourself.
—
[image via screengrab]
Have a tip we should know? tips@mediaite.com