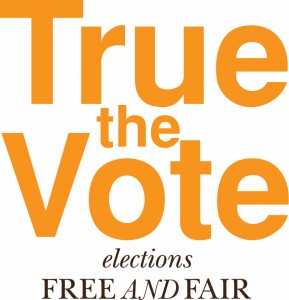 In a story that's sure to draw comparisons to the New Black Panther Party member who brandished a nightstick at a Philadelphia polling place in 2008, a Tea Party group called the King Street Patriots has been accused of "1960s style" voter intimidation in primarily minority precincts on the first day of early voting in Texas. The group is being sued by the Texas Democratic Party, following the filing of 14 voter intimidation complaints with the county clerk, and another two dozen with the Texas Democratic Party chairman.
How will the media, both conservative and "lamestream," treat this story?
There are key differences between the NBPP story and the King Street Patriots incidents. The New Black Panther incident was a one-off that was dealt with quickly by police, whereas the incidents in Houston were more widespread. Harris County Clerk spokesman Hector DeLeon and Texas Democratic Party chairman Gerry Birnberg described the incidents to The Houston Chronicle:
DeLeon said the county clerk's office received 14 complaints of alleged voter intimidation at 11 voting locations on Monday, the first day of early voting for the Nov. 2 general election. Birnberg said his office forwarded about two dozen complaints to the county attorney's office.

"In any election year you get one or two over-zealous poll watchers, but this was a pattern throughout minority early voting precincts," (Texas Democratic Party chairman Gerry Birnberg said.

"We hope it can be resolved by government authorities pointing out to these folks that they not only are acting undemocratically but blatantly illegally."
The King Street Patriots deny that they were intimidating voters.
While the allegations in this case are much more widespread than in the NBPP story, so far, there is no video of the incidents in Houston, which makes this story a tougher sale. The Houston incidents also lack the explosive element of weaponry, as first assistant Harris County attorney Terry O'Rourke describes them:
The complaints, he said, came from Kashmere Gardens, Moody Park, Sunnyside and other predominantly minority neighborhoods. The complaints included poll watchers "hovering over" voters, "getting into election workers' faces" and blocking or disrupting lines of voters waiting to cast their ballots.

"Keep in mind these are allegations of voter intimidation," O'Rourke said. "It's sometimes in the eye of the beholder."
While it makes for a much less sexy story, this subtler form of intimidation is more effective and harder to pin down.
Still, the fact that this story is such a natural counterweight to the New Black Panther story means that it will probably become fodder for political panel discussions on cable news shows. If this pattern continues, and/or if some remotely interesting video emerges, it could become a huge part of the midterm media narrative.
Have a tip we should know? tips@mediaite.com