Terrifyingly Hilarious: Nebraska Woman Gives The Most Amazingly Bonkers Anti-Gay Rant Ever
Nebraska Woman Gives The Most Amazingly Bonkers Anti-Gay Rant Ever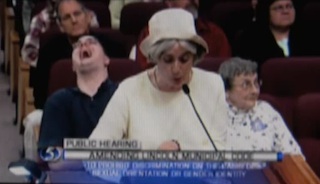 You know what's not funny? Hate. You know what's also not funny? People going on hate-filled rants. However, you know what is funny, people going on hate-filled rants that make so little sense that they sound like someone took the worst comments from a political message board, mixed all the words around, translated them to Japanese, and then translated them back. And that's what happened at a council meeting in Lincoln, Nebraska and it resulted in one of the craziest videos you'll see this week.
Recently, Nebraskan cities have been trying to deal with the lack of protection that LGBT citizens have from discrimination. The state's anti-discrimination laws don't cover sexual orientation. YouTube user aksarbent has been uploading videos of some of the more interesting moments from hearings on the issue. One of them, he or she labeled "Best in Show!" and, good lord, is that not hyperbole.
Wearing a big white hat, a woman gets up and reads a screed that you need to hear to believe. She begins by accusing the ABC show Wipeout of being "produced in Holland by gays, bis, and orgiers" who like to see "people perishing." At least I think that's what she's saying. And it just gets weirder and weirder.
In no discernible train of thought, the woman accuses Hillary Clinton of turning lesbian in college, gay people of being "homociders" who all dying at the age of 40, gay men of molesting boys because "they don't have AIDS yet," talks about the health risks of "licking anus," and says something I can't even figure out about Whitney Houston being naked when she died.
Again, there's nothing funny about bigotry but there's something amazing about watching a video that makes it clear just how ridiculous these beliefs are.
Plus, the kid sitting directly behind the lady who can't stop cracking the hell up really seals the deal!
Watch the video below:
(h/t Towleroad via Dave Holmes)
Have a tip we should know? tips@mediaite.com