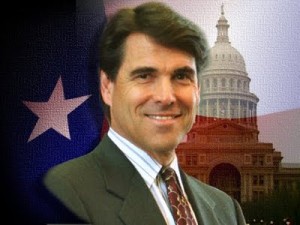 It's yet to be seen whether Texas governor Rick Perry will throw his (Cowboy? Fisherman's? Probably a floppy fisherman's hat, right?) hat into the ring as the field for potential GOP nominees remains wide open. But! If his recent prayer event is any indication, Perry may just be doing his part to court a specific segment among Republican voters.
In a blog post aimed at the "elite thought leaders" (teehee!) on either coast, Miller-McCune editor John Mecklin points to a recent prayer event organized by the Governor. "I just thought I'd horrify my friends on the East and West coasts," Mecklin writes, "with this inspiring little report from the 'Third Coast' […]"
He then offers an excerpt from Chron.com, which gives additional details on the prayer event:
Rick Perry, dubbed the Christocrat candidate for the Republican nomination, is putting his faith up front as rumors of a presidential run continue to swell. Perry has announced that he will hold a large-scale Christian rally at Reliant Stadium in Houston this summer.

He has invited the 49 fellow state governors and Christians from across denominations to join him to pray and fast for America on August 6.
The Chron's Texas politics blog explains why this event may be the result of a shrewdly calculated political strategy rather than merely a religious gathering:
Such an event would allow Perry to build his profile with Christian conservatives, a group that play a key role in Republican primary politics, especially in the South and the Midwest. The playbill for the call to prayer hits all of the notes that a candidate seeking the GOP nomination would be expected to hit (see: debasement of society). And the venue selection — Reliant Stadium (a football stadium) — indicates that organizers are aiming to make a splash with the event.
With Mitt Romney seemingly losing steam with the sort of Republicans who would be quick to label him a "RINO" – as well as the Tea Party movement's FreedomWorks group – could Perry take over where Romney is leaving off? If anything, he'd be able to inject a healthy dose of charisma into a potential candidate field that, so far, is leaving many Republican voters cold.
h/t Chron.com via John Mecklin
Have a tip we should know? tips@mediaite.com