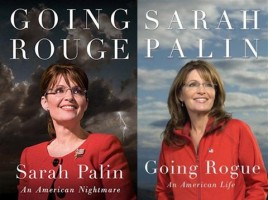 How do you get a book of grave, intellectual critiques of Sarah Palin, printed by a recently-launched independent publisher, to get national press attention and a panel discussion on Entertainment Tonight's "The Insider?" Easy: call it Going Rouge and make the cover as much of a one-off swap as the title.
Going Rouge, printed by OR Books and assembled by two editors of The Nation, does not sound like a natural candidate for widespread adoration. It is a compilation of anti-Palin essays and other writings, many of which date back to last year's election. It is a "very serious book," editor Richard Kim told Politico, and it is "not at all intended as a joke or a parody." Hence the cover. Essays with titles like "Palin's Petropolitics" and reflections on Frank Murkowski's role in Palin's ascent may be natural candidates for, well, The Nation; "The Insider," not so much.
That wacky cover/title, though. There are lightning bolts coming out of the clouds, rather than sunshine! It's a somewhat cynical form of piggyback marketing that gets a bump every time the actual Going Rogue is discussed, but given the ruthlessness of Palin's publicity blitz, it seems like fair game. A bonus: the book has benefitted from free advertising via a number of media typos. Last night, a chyron on Hannity said that Palin was "Going Rouge." The Canadian Broadcasting Channel went a step further, accidentally displaying the cover of Going Rouge in a segment on Palin's book. A newspaper in South Carolina made the same mistake. (h/t Regret the Error)
It's odd, given the waves of free publicity that Going Rouge has lapped up, that it's not for sale on Amazon. Another Going Rogue knockoff, Going Rouge: The Sarah Palin Rogue Coloring and Activity Book, is #50 among humor books on Amazon and is currently sold out, despite the fact that it seems truly opportunistic and hacky. Sample coloring page/joke: "What animal will Sarah kill in 2012? a) Moose, b) Caribou c) Dall Sheep d) Republican Party." LOL. Imagine how well the Going Rogue doppelgänger could do?
(The actual Going Rogue, by the way, is currently #1, and was a bestseller even before it hit stores thanks to preorders.)
Update: OR Books co-publisher Colin Robinson tells Mediaite, via e-mail: "We're not on Amazon because we are spending very substantial amounts on promoting the book direct to readers and, as a result, can't afford the substantial discount that Amazon requires. But the book is easily available from www.orbooks.com."
Alas, poor Bob Silber's "book" Going Rouge: A Candid Look Inside The Mind Of Political Conservative Sarah Palin, which was for some reason released on November 11th instead of yesterday, is not doing as well. This may have something to do with the fact that it contains no text, just blank pages. Because it's supposed to be like Sarah Palin's mind.
Have a tip we should know? tips@mediaite.com