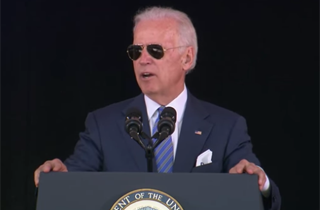 Vice President Joe Biden spoke to this year's Yale University graduates at Class Day, and while he dispensed the usual advice about being compassionate citizens of the world, he also happened to be Joe Biden throughout, and that's the part of the speech everyone will remember decades from now.
Quickly donning a pair of aviator sunglasses, Biden promised to not give the kind of boring graduation speech that politicians tend to give at these events. "Now look — I realize no one ever doubts I mean what I say," he joked. "The problem occasionally is, I say all that I mean. I have a bad reputation for being straight, sometimes at inappropriate times."
And he was quite straight, especially with the Yale jokes. Via Politico:
Corvettes are better than Porsches. They're quicker and they corner as well. And sorry guys, a cappella is not better than rock and roll, and your pundits aren't better than Washington pundits, although I've noticed that neither has any shame at all.
In re: the infamous Yale-Harvard football game: One touchdown away from beating Harvard for the first time since 2006. So close to something you wanted for eight years. I can only imagine how you feel. I can only imagine. So close. So close.
Now, look, folks, I spent a lot of time thinking about what I should say to you today, but the more I thought about it, I thought that any Class Day speech is likely to be redundant. You already heard from Jessie J at Spring Fling. So what in the hell could I possibly say?
I'm just glad there's someone — just someone — who dreams of being vice president. Just somebody. I never had that dream. For the press out there, that's a joke.
What?! No..
Watch below via Yale University (Biden's speech starts around an hour and ten minutes in):
[Image via screenshot]
—
>> Follow Tina Nguyen (@Tina_Nguyen) on Twitter
Have a tip we should know? tips@mediaite.com