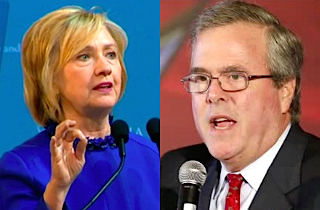 Of the reported $25 million that Bill and Hillary Clinton have collected for paid speeches since the beginning of 2014, $225,000 of that came from Academic Partnerships, an education company in which Jeb Bush has a small ownership stake.
The Intercept's Lee Fang reported Monday that Hillary Clinton delivered the speech in Dallas, Texas on March 24, 2014 to a private event for company, which aims to help universities offer degree programs online for students around the world.
Clinton and Bush both spoke at the conference last year, though they did not appear together. Heralding the possibilities (and limits) of online learning, the two likely 2016 rivals echoed each other's sentiments.
"It is true that today a student doesn't need to travel to Cambridge, Mass., or Cambridge, England, to get a world-class education. But it still has to be a world-class education," Clinton said, according to The Dallas Morning News. "Technology is a tool, not a teacher. It cannot replace hands-on experience, on-the-job training or laboratory-based experiments. On its own, it cannot teach creativity or critical thinking, but it can open doors that didn't even exist a few short years ago."
"Higher education in America has a growing affordability problem while billions in the developing world struggle with accessibility," Bush said during the opening of the conference. "Exporting U.S. post-secondary education and global consumers at scale can help really resolve both issues simultaneously."
Academic Partnerships was among the boards from which Bush resigned at the end of last year in preparation for his pending presidential campaign announcement. At the time, the Washington Post wrote that "Bush's affiliation with the firm — which has contracts with schools in a half-dozen states and several foreign countries and has annual sales of $100 million — could complicate his effort to promote his record as an education reformer."
Glenn Greenwald, who has made his disgust of both Bush and Clinton known in recent weeks, took note of the "cozy bipartisanship" on Twitter:
Beautiful, Cozy Bipartisanship: Hillary Clinton Paid by Education Company Partially Owned & Managed By …. Jeb Bush https://t.co/WRdICDKK1W

— Glenn Greenwald (@ggreenwald) May 18, 2015
Meanwhile, BuzzFeed's Andrew Kaczynski used the opportunity to liken Bush to George Stephanopoulos:
Jeb Bush clearly showing a pro-Clinton bias and must recuse himself from 2016: https://t.co/XCM5xBecWW pic.twitter.com/prg5NhPmhT

— Andrew Kaczynski (@BuzzFeedAndrew) May 18, 2015
[Photo via screengrab]
— —
>> Follow Matt Wilstein (@TheMattWilstein) on Twitter
Have a tip we should know? tips@mediaite.com