The Inevitable Oprah vs. Trump Poll is Out, And Oprah's Got a Double Digit Lead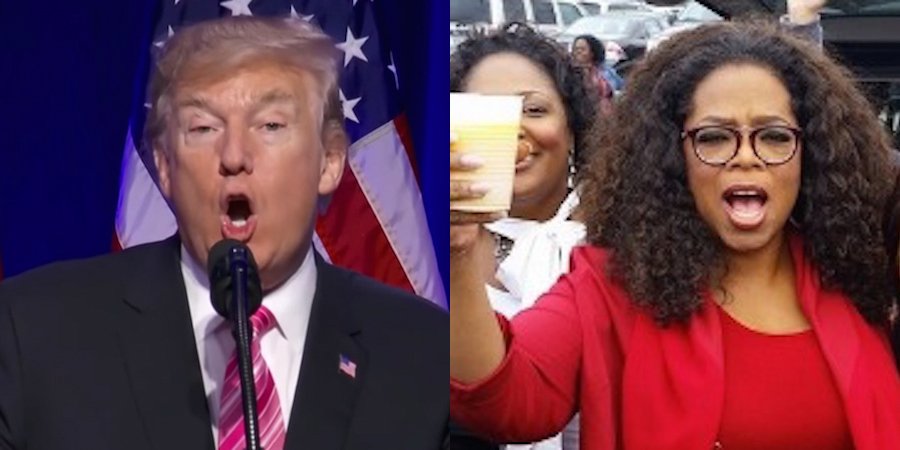 We knew it was only a matter of time, but an official poll has been conducted, gauging who would win in a presidential contest, between Oprah Winfrey or President Donald Trump.
It looks like Oprah is in the lead. Bigly.
Conservative-leaning polling house Rasmussen talked to likely voters after the talk show host's game-changing Golden Globes speech. The result? 48 percent of these likely voters would cast their ballot for Oprah, if the election were to be held today, while 38 percent would go for the sitting president. 14 percent, meanwhile, remain undecided.
Those aren't exactly good numbers for the president — especially considering Oprah seems to be quelling the rumors that she would be running for office.
Even conservative writer, and man of good taste, Matt Drudge is shook!
RASMUSSEN POLL SHOCK: OPRAH 48% TRUMP 38%… DEVELOPING….

— MATT DRUDGE (@DRUDGE) January 10, 2018
Some more details; Democrats went for Oprah by a large margin. Seventy-six percent said they would support the talk show host, with 22 percent of Republicans and 44 percent of independents following suit.
On the flip side, Trump garnered support from 66 percent of Republicans, 12 percent of Democrats and 38 percent of independents.
With this poll dropping, isn't it about time Trump tagged Oprah with a nickname? 
After all, he did say he would beat her, right?
[image via screenshot]
—
Follow Lawrence Bonk (@sidescrollers) on Twitter
Have a tip we should know? [email protected]