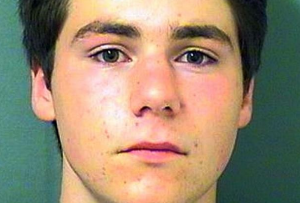 Luke Gatti is someone who cannot stay away from law enforcement. He was arrested in 2015 at the ripe old age of 19 for allegedly being drunk and disorderly. Two weeks later, he was arrested again and this time, the incident that led to it was caught on tape. You probably remember hearing about a student at the University of Connecticut who was so bombed that he threw a fit in the school's cafeteria when he couldn't get macaroni and cheese. That was Gatti. He was sorry and everything, but not sorry enough to stop doing things that get him arrested.
There are few details, but MassLive and the Hartford Courant are both reporting that Gatti — who went to both UConn and the University of Massachusetts and appears to have been in trouble with the law at both — was arrested in May 28 for battery of an officer in Boca Raton, Florida.
The New York Daily News has more information than the two local outlets. They claim that he was in Florida for rehab and was caught trying to leave his treatment center barefoot when they wouldn't give him medicine to help with withdrawal. He returned a few hours later to find an officer waiting for him. He allegedly tried to leave again, the officer grabbed him, and he reportedly fought back. Naturally, this led to an arrest.
Anyway, let's all watch that mac and cheese video again!
That must be some macaroni.
[image via Palm Beach County Sheriff's Office]
For more from Lindsey, go to Twitter or Facebook.
Have a tip we should know? tips@mediaite.com