SCOTUS Refuses to Hear Pharmacists' Religious Liberty Case, Over Conservative Dissent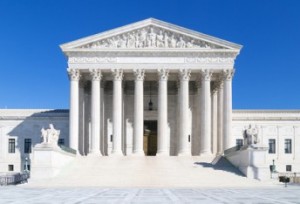 Over conservative dissent, the Supreme Court has refused to hear a religious liberty case, in which pharmacists challenged a Washington State regulation mandating that pharmacies dispense emergency contraception, such as Plan B, the so-called "morning after pill."
The plaintiffs, the Stormans family, are Christians who own and operate a pharmacy and grocery store in Olympia, Wash. They filed suit against the secretary of the Washington State Department of Health over a state regulation that forbids pharmacies from "refus[ing] to deliver a drug or device to a patient because its owner objects to delivery on religious, moral or other personal grounds."
In a dissent, Justice Samuel Alito called the case "an ominous sign." He was joined in his dissent by Chief Justice John Roberts and Justice Clarence Thomas.
Alito claimed that there was evidence to suggest the state law served no legitimate purpose and, further, existed only because of "hostility to pharmacists whose religious beliefs regarding abortion and contraception are out of step with the prevailing opinion in the State."
"This court does not deem this case worthy or our time," Alito added. "If this is a sign of how religious liberty claims will be treated in the years ahead, those who value religious freedom have cause for great concern," he said.
The Stormans were represented in their action by the Alliance Defending Freedom (ADF), a Scottsdale, Ariz.-based conservative Christian legal non-profit organization that frequently litigates against abortion rights and LGBT rights.
ADF Senior Counsel Kristen Waggoner said in a statement:
All Americans should be free to peacefully live and work consistent with their faith without fear of unjust punishment, and no one should be forced to participate in the taking of human life. We had hoped that the U.S. Supreme Court would take this opportunity to reaffirm these long-held principles.
The Ninth Circuit had previously held that the state's regulation did not violate the Stormans' First Amendment rights. The Supreme Court's decision not to hear the case lets that ruling stand.
The decision comes one day after the Court's landmark ruling in Whole Woman's Health v. Hellerstedt, striking down a Texas state law that would have dramatically reduced the number of locations where women could get safe, legal abortions.
Have a tip we should know? tips@mediaite.com