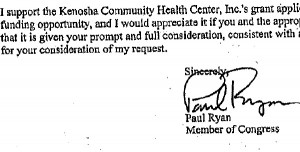 During his first week of running-matery, vice-presidential candidate Paul Ryan ran into trouble when he told a reporter that he"never asked for stimulus," only to be later confronted with letters in which he did exactly that, while extolling the job-creating virtues of stimulus funds. In a similar vein, The Nation's Lee Fang now reports that in December of 2010, Ryan wrote a letter requesting Obamacare funding for a community health center.
From The Nation's Lee Fang:
Republican vice-presidential candidate Paul Ryan is barnstorming the country, promising to repeal every provision of the Affordable Care Act if the Romney-Ryan ticket is elected. But a letter he wrote to the Obama administration may undermine this message.

On December 10, 2010, Ryan penned a letter to the Department of Health and Human Services to recommend a grant application for the Kenosha Community Health Center, Inc to develop a new facility in Racine, Wisconsin, an area within Ryan's district. "The proposed new facility, the Belle City Neighborhood Health Center, will serve both the preventative and comprehensive primary healthcare needs of thousands of new patients of all ages who are currently without healthcare," Ryan wrote.

The grant Ryan requested was funded directly by the Affordable Care Act, better known simply as healthcare reform or Obamacare.
Liberals have been focusing on the hypocrisy element of this story, which is significant, but parables such as this and the Ryan stimulus lie are far more valuable as illustrations of the merits of these policies. That Ryan is willing to snarf up federal dollars to keep his constituents happy, even as he rails against those policies, is not nearly as instructive as his constituents' demand for those funds, or Ryan's own praise of them.
It's also a great opportunity to contrast President Obama's health car policy, which is saving lives and money, and Romney/Ryan's, which keeps the savings the President achieved, but guts services like the center that Ryan requested the money for, and removes a raft of protections that keep people from dying.
Paul Ryan is a hypocrite, but that only matters because he is wrong. If he were entirely consistent, he'd be no less wrong.
Have a tip we should know? [email protected]