The New Trailer For Julian Assange's Talk Show Features Music By MIA, Cursing By Bob Beckel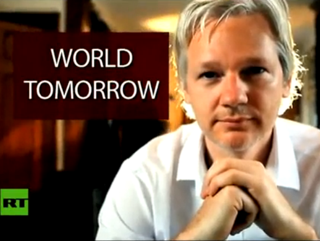 As the year began, Julian Assange surprised the world with the news that he would now add "news talk show host" to his resume, with an as-yet-untitled show airing on RT America. This week, the first trailers for the show, The World Tomorrow, debuted, with no news on who the guests will be but word that the music comes from the artist Wikileaks dubbed "The Julian Assange of pop music," M.I.A..

RELATED: Wikileaks Chief Julian Assange Lands Talk Show Gig On RT
The trailer for the show is fairly straightforward: a rapidfire introduction into the life of Julian Assange as the headlines have told it, with Assange concluding, "today we are on a quest for revolutionary ideas that can change the world tomorrow." The ad is peppered with quotes from President Obama and high-ranking members of the Department of State– and tucked in there, somewhat incongruously, after Assange asserts that "the powerful" are after him, is Bob Beckel, saying the phrase "illegally shoot the son of a bitch."
Jeff Bercovici at Forbes reports the music is the work of Sri Lankan rapper M.I.A., who has expressed support for Assange in the past. He writes that a Wikileaks spokesperson confirms "M.I.A. met with Assange in London, where he has been under house arrest for more than a year."
Assange and RT America are keeping mum on who the guests will be. Bercovici speculates M.I.A. will be on the list, and one can speculate there is a chance public intellectuals who have expressed sympathy for what Assange does (Glenn Greenwald comes to mind) may also be possible guests. The Wikileaks space for the show online has a press release and FAQ on the show:
The first interview will be broadcast on RT on Tuesday 17 April, at 12:30 London time. Subsequent interviews, edited to last 26 minutes each, will be broadcast on a weekly basis. The interviews and transcripts will also be made available online. Arrangements are currently being made with other licensees to publish longer edits of the series.
The last words on the page are "courage is contagious."
The trailer via RT below:
Have a tip we should know? tips@mediaite.com