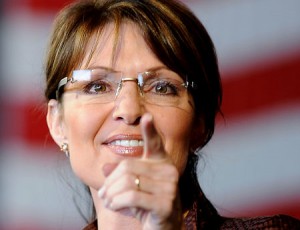 In a momentous meeting of female Tea Party power, Sarah Palin and Christine O'Donnell were scheduled to appear together at a "Restoring America" Tea Party rally this weekend outside Des Moines, Iowa. But after O'Donnell was invited, dis-invited, and then re-invited, Sarah Palin is now deciding that she might just not want to go either. The occasion, other than being a nice time for the two like-minded ladies to catch up, was being watched closely for signs that Palin might be building a presidential campaign. If that's the case, she's off to a rocky start, as the rally seems to be turning into quite the fiasco. Those of you who have not yet booked your tickets to Des Moines for the weekend are probably best holding off.
The original plan was to have O'Donnell — who has been busy of late doing publicity for her book — warm the stage for headliner Mama Grizzly. "We're just kind of loading up the bases, aren't we," said Ken Crow, president of the Tea Party of America and one of the event's organizers, at the time. Perhaps the load was a bit too much.
Late in the afternoon yesterday, things started to get weird when word got out that O'Donnell had been disinvited. O'Donnell was initially gracious on twitter, saying only that "things changed on their end" and that she still wished "them the best with this important event." Rally organizers were less clear. Crow told the Wall Street Journal that the whole thing was just a mistake. "I assumed there was an open slot and there wasn't," he said. Meanwhile, Tea Party of America's cofounder, Charlie Gruschow was busy telling people that it was not a mistake, but rather a strategic decision. "We decided not to have her speak," he said, "we felt it was in the best interest of the movement." Why remained unclear, but for sure she had been dropped.
Then, this morning, after waking up to an inbox full of complaints, event organizers decided to re-invite O'Donnell. "We panicked," said Crow. "We're making room for her." O'Donnell "humbly re-accepted their re-invitation," and, bumps behind, all things seemed to be back on track.
Sarah Palin isn't feeling quite as open minded about her friend's invitation mix-up, though, and this morning announced that her appearance was "no longer confirmed" as a result of "continual lying" from event organizers. As the Wall Street Journal today points out, this sort of last minute change is nothing new for Palin. And certainly, the organization of the event has been muddled. This is, however, a rather high-profile event for her to be backing out of, especially considering that her (maybe) backing out makes a further mess of an event that, O'Donnell happily back on board, could have gone on otherwise successfully.
According to the Journal, she seems to be keeping her options open: "Ms. Palin may still hold an event Saturday, the person said, though she has no firm plans. It's also possible she could still attend the Indianola tea party rally, the person said." For fans and followers who had made prior arrangements to be in Des Moines for the rally, Palin is also scheduled to appear at an event sponsored by the group Conservatives4Palin on Friday. In case you're not already feeling too whiplashed by the whole weekend, that is.
Have a tip we should know? tips@mediaite.com