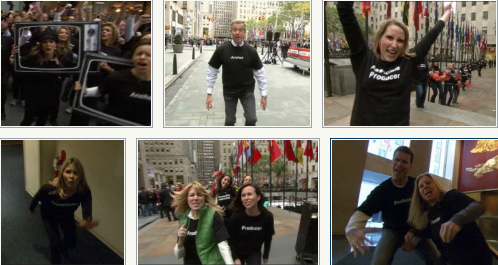 If this doesn't make you smile then you really need to lighten up: the entire Today Show staff — anchors, correspondents, producers, directors, makeup artists, lighting, sound and camerapeople and a dude who can apparently ride a unicycle all teamed up to do a one-take viral video for the Black Eyed Peas' "I Gotta Feelin'" — and it's delightful. In one take, cameraman John Montalbo captures Matt Lauer, Meredith Vieira, Ann Curry, Al Roker, Brian Williams, and a well-placed Hoda & Kathie Lee (assigning them ""Fill up my cup – Mazel Tov" – genius), plus the makeup & hair stylists dancing with their respective brushes, the control room (with a giant Jim Bell ducking down into frame), and Lester Holt, Jenna Wolfe and Amy Robach dancing with cutouts of TVs around their heads. And yes, that is presidential daughter-turned-correspondent Jenna Bush Hager getting down in the stairwell. Also in there someone drops his pants, someone does a back handspring-flip, someone executes a graceful spin on the Rock Center ice with a "DO IT" sign in her hands, the previously-mentioned senior broadcast producer Don Nash rocks the unicycle, BriWi dances backward with a jolly face and rubbery arms, and the whole thing snakes in, out, and around 30 Rock in what clearly is way more fun than the last thing you did at work. You need to watch this right now.


Here's the "Making Of" video – you'll see that the Today Show crew was inspired by a group of college kids who did the same thing. Good backstory in the below (and two more awesome videos after that):


…and here's the video it's based on! FROM QUEBEC! THAT'S IN CANADA, YO! Once you watch this you will see the inspirations in the Today Show version, and all the hat tips to their Quebecois lipdub brethren. Who, if I may say, rocked it even harder. I dare you to watch it and not smile. C'est impossible.


…and the original – attention must be paid to College Humor's "Flagpole Sitta," which is just as good watching it 3 years later. I love the internet.
Have a tip we should know? tips@mediaite.com