Third Video Shows Planned Parenthood Director Standing Over Dead Fetuses Discussing Prices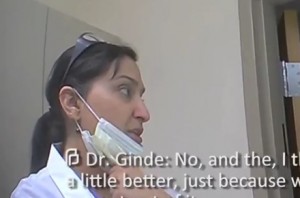 A third Planned Parenthood sting video produced by the Center of Medical Progress has been released, purporting to show vice president and medical director of Planned Parenthood of the Rocky Mountains Savita Ginde discussing compensation for fetal organs while a technician shows the buyer aborted remains.
The bulk of the video features an interview with Holly O'Donnell, a former employee of StemExpress, which is one of Planned Parenthood's partners in fetal donation. O'Donnell claimed to have applied for a job thinking she would just be drawing blood, but fainted on her first day when they brought in an aborted fetus for her to dissect.
"For whatever we could procure, they would get a certain percentage," O'Donnell said. "The main nurse was always trying to make sure we got our specimens. No one else really cared, but the main nurse did because she knew that Planned Parenthood was getting compensated."
But the more disturbing part of the video is towards the end, when an undercover activist posing as a buyer visits one of the Planned Parenthood abortion clinic laboratories, where he watches a technician dig through a pie dish full of fetal remains to find organs.
As they review an 11-week fetus' spinal cord and kidneys with a tweezer, the "buyer" says those are the kind of tissue he'd like to buy. "If I looked at that, I'd be like 'that's good to go,'" agrees Ginte.
"Five stars!" jokes her medical assistant.
"If we were doing like 50 to 75 [dollars] per specimen, that'd be like 200 to 300 and we'd be comfortable with that," the "buyer" says. "But stuff like this, we don't want to be like just a flat fee of like 200…"
"No, and I think a per-item thing works a little better, just because we can see how much we can get out of it," Ginde responds.
Planned Parenthood president Cecile Richards responded to the slew of undercover videos on ABC's This Week Sunday morning. "This has been a three-year, well-funded effort by the most militant wing of the anti-abortion movement of this country to entrap doctors," she said. "They were completely unsuccessful, so now they're using very highly edited videos, sensationalized videos, to try to impugn and smear the name of Planned Parenthood. They have zero credibility."
WARNING: The following video is great deal more graphic than the previous two videos, and contains images of aborted fetuses being dissected. Watch at your own discretion.
[Image via screengrab]
——
>>Follow Alex Griswold (@HashtagGriswold) on Twitter
Have a tip we should know? tips@mediaite.com