This Exists: Student Survives Jump From Golden Gate Bridge; 'Did It For Fun'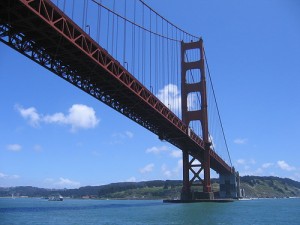 A Bay Area high school was taking a field trip to San Francisco's iconic Golden Gate bridge yesterday morning, when an 11th grade student leaped into the Pacific waters 220-feet below. But amazingly, the unidentified 16 year-old boy not only survived the leap, reportedly crawling out of the water on his own power, but it appears that he was not suicidal, telling a surfer that helped rescue him "I did it for fun."
KTVU.com reports:
A Larry Young, a surfer who talked to KTVU, said he saw the student when he surfaced from the water and he landed feet first and wasn't wasn't flailing. The surfer said the teen looked cold and wasn't smiling when he emerged, but he did say "I did it for fun."

"I looked at him, eye to eye, not a bruise, not anything," Young said.

A press release issued by the Windsor High Unified School district stated that a male student from Windsor High School in Sonoma County leaped from the bridge at approximately 11:15 a.m. Approximately 45 students and two teachers were at the bridge for the school field trip, according to the release.

The student, who CHP confirmed was a 17-year-old, reportedly jumped from the span at a location between Fort Point and the South tower. He hit the water and was assisted to shore by surfers who were surfing the popular break beneath the bridge.

The student told paramedics that he's a recreational bridge jumper, and has done stunts like this before, but presumably never from more than 220 feet up.
It is unclear why the student jumped, but a school spokesperson told local news outlets that this was "not a dare" as had been reported by some media outlets. KTVU reports that "classmates said they heard the boy say during their bus ride that it would be cool to jump off the bridge, and while they walked across the bridge he kept looking over. But they thought he was joking, they said."
Watch the video report from San Francisco's KTVU below:
Have a tip we should know? tips@mediaite.com