'This What World Like Now': The Onion Reacts To The Boston Marathon Bombings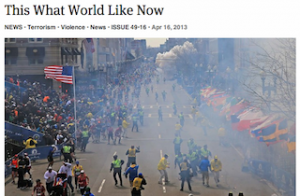 Ever since The Onion led its post-9/11 coverage with the headline "U.S. Vows To Defeat Whoever It Is We're At War With", the country has looked to "America's Finest News Source" to see just how they will manage to tackle the worst of life's tragic events. The satirical newspaper's website had multiple articles up about the Boston Marathon bombings by early Tuesday, each finding some bit of comedic irony in the otherwise horrible story.
The first story, titled "This What World Like Now," quotes President Obama as telling the nation, "My fellow Americans, the events that happened yesterday in Boston are entirely consistent with the current state of humankind." The second, titled "Authorities: Sadly, There Are Many People Who Could Have Done This," highlights the "depressing" notion that "there are actually many, many people out there who would have wanted to set off an explosive device on a crowded street corner full of innocent men, women, and children."
Finally, in one of The Onion's classic portrayals of "Area Man," the site attempts to sum up the reactions of regular people across the country. As this St. Louis father says, "I realize that desperately racing home to my wife and kids so I can hold them and tell them I love them is part of the routine now and I need to get used to it, but sometimes I just don't know if I have another one in me."
As more details of the Boston bombings emerge, The Onion will likely find more ways to add its own brand of humor to the story. And with the return of The Daily Show and The Colbert Report tonight on Comedy Central, we can expect some form of comedic reaction from Jon Stewart and Stephen Colbert. But as they often have been in the past, The Onion was the first to make public "jokes" about the event.
Below you can see The Onion's 9/11 print edition side-by-side with today's home page: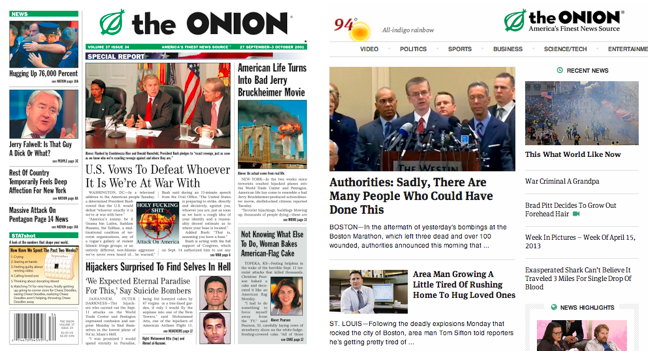 —
>> Follow Matt Wilstein (@TheMattWilstein) on Twitter
Have a tip we should know? tips@mediaite.com