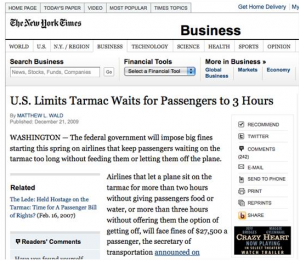 For anyone who's ever been stuck on a runway endlessly by an airline that won't give you a straight answer — or a pillow — then here's your relief: The federal government just announced that "airlines that let a plane sit on the tarmac for more than two hours without giving passengers food or water, or more than three hours without offering them the option of getting off" will face fines of $27,500 — PER PASSENGER. Booyah!
Secretary of Transportation Ray LaHood called it "President Obama's Passenger Bill of Rights" and maybe it will help push that approval rating back up amid all the frustrations of the past few snowbound days, adding to the general bedlam of holiday travel.
But either way, we're going out on a limb here and betting that this will climb to the very top of the NYT's most-emailed pyramid, unless some quirky column about spending the holidays cuddled up with Shamu suddenly rears its head. Or something about Jews. That almost always makes it to the top of the most-emailed list. But barring that, our moneys' on this one. It's at #5 on Business so far, right behind Saab's last dying gasp for survival. Farwell, quirky little Swedish car.
U.S. Limits Tarmac Waits for Passengers to 3 Hours [NYT]
Passengers trapped on runway for 8 hours [CNN]
10-1/2 hours on tarmac: JetBlue has a red face [Seattle Times]

Related:
New York Times Most Emailed List [NYT]
What Shamu Taught Me About a Happy Marriage [NYT]
Credit to Glynnis MacNicol for the screengrab & tweet.
Have a tip we should know? [email protected]