Tim Cook Responds to Trump's Apple Boycott Threat: 'I Don't Know What He Thinks'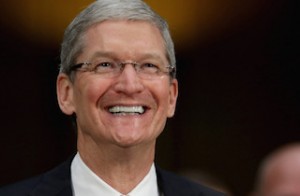 Apple CEO Tim Cook was guarded in his response when asked about Donald Trump's calls for a boycott of the company's products, even as he maintained his position in refusing to cave to government pressure.
Speaking to Time magazine, Cook said:
I haven't talked to him so I don't know what he thinks. The way I look at it is, Apple is this great American company that could have only happened here. And we see it as our responsibility to stand up on something like this and speak up for all these people that are thinking what we're thinking but don't have the voice.
Trump blasted the technology company last month for opposing the federal government's order to unlock the phone of San Bernardino terrorist Syed Farook. Apple has maintained that doing so would involve creating a backdoor that could threaten all Apple users' security and would also set a dangerous precedent for allowable surveillance. Trump said at the time Cook was just trying "to show off how big a liberal he is."
I use both iPhone & Samsung. If Apple doesn't give info to authorities on the terrorists I'll only be using Samsung until they give info.

— Donald J. Trump (@realDonaldTrump) February 19, 2016
Boycott all Apple products until such time as Apple gives cellphone info to authorities regarding radical Islamic terrorist couple from Cal

— Donald J. Trump (@realDonaldTrump) February 19, 2016
Cook added: "We see that this is our moment to stand up and say 'Stop.' And force a dialogue. And that dialogue may, I don't know how it'll go. I'm optimistic. But I don't know at the end of the day. But I see that as our role."
[h/t Mashable]
Have a tip we should know? tips@mediaite.com