Tony Bennett Apologizes For Suggesting 9/11 Was Caused By American Foreign Policy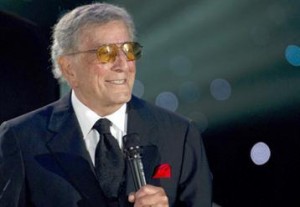 Tony Bennett apologized Tuesday for his comments that American foreign policy had helped cause the 9/11 attacks made on The Howard Stern Show, saying he was grateful to be an American and serve in its armed forces. "I am sorry if my statements suggested anything other than an expression of my love for my country," said Bennett. "My hope for humanity and my desire for peace throughout the world."
In a statement posted on the jazz legend's Facebook fan page, Bennett clarified his earlier remarks.
"I am so grateful to be an American and as a World War II veteran, I was proud to fight to protect our values, which have made America the greatest country on the planet.

There is simply no excuse for terrorism and the murder of the nearly 3,000 innocent victims of the 9/11 attacks on our country.

My life experiences – ranging from the Battle of the Bulge to marching with Martin Luther King – made me a life-long humanist and pacifist, and reinforced my belief that violence begets violence and that war is the lowest form of human behavior."
In addition, responding to Bennett's revelation that President George W. Bush had told him he made a mistake going to war in Iraq, a spokesperson for Bush told NBC News, "This account is flatly wrong … President Bush never said that to Tony Bennett or anyone else."
It wasn't all bad news this week for Bennett, he became the oldest living artist to make an appearance on the Billboard Hot 100 chart for his Amy Winehouse duet.
Bennett is scheduled to make an appearance on CNN's Piers Morgan tonight at 9pm EST.
Have a tip we should know? tips@mediaite.com