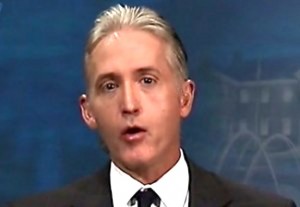 Congressman Trey Gowdy, head of the House Select Committee on Benghazi, said today that not only did Hillary Clinton not agree to turn over her private server to an independent third party, but she had already wiped it clean. Gowdy said earlier this month he wanted Clinton to testify not just on Benghazi, but on her use of private emails while Secretary of State.
Last week, Gowdy officially requested that Clinton turn over her server so it can be independently be examined by "a mutually agreeable third party." That way, he said, there would be a fair pair of eyes judging which emails were relevant and which were not, without simply going on the word of Clinton or her team.
Today Gowdy announced in a statement that Clinton "failed to provide a single new document" and "refused" to hand over her server to a third party.
And then there's this:
We learned today, from her attorney, Secretary Clinton unilaterally decided to wipe her server clean and permanently delete all emails from her personal server. While it is not clear precisely when Secretary Clinton decided to permanently delete all emails from her server, it appears she made the decision after October 28, 2014, when the Department of State for the first time asked the Secretary to return her public record to the Department.
Gowdy reaffirmed that they would continue to pursue the issue and still want Clinton to testify before the committee on the matter.
[image via screengrab]
— —
Follow Josh Feldman on Twitter: @feldmaniac
Have a tip we should know? tips@mediaite.com
Josh Feldman - Senior Editor