Warren Fundraises Off Wall Street Threats to Boycott Dems over Her 'Anti-Big Bank' Attitude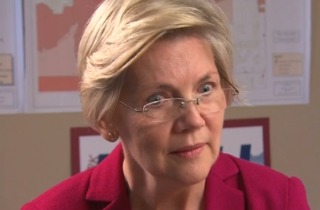 After a Reuters report detailed a potential Wall Street boycott of donations to the Democratic Party due to Sen. Elizabeth Warren's (D-MA) so-called "anti-big bank" attitude, the Massachusetts Democrat is now fundraising off of that report.
According to Reuters, executives of the largest Wall Street corporations are "so upset" with Warren and her colleague Sen. Sherrod Brown (D-OH) that they are considering not donating to Senate Democrats as a "symbolic protest." Representatives from Citigroup, JPMorgan, Goldman Sachs and Bank of America reportedly met in D.C. to discuss a plan of action.
In an email blast to supporters titled, "Wall Street isn't happy with us," Warren accused big banks of making threats and bullying, and pledged to fight back.
"I'm not going to stop talking about the unprecedented grasp that Citigroup has on our government's economic policymaking apparatus," she said in the fundraising email. "I'm not going to stop talking about the settlement agreements that JPMorgan makes with our Justice Department that are so weak, the bank celebrates by giving their executives a raise. And I'm not going to pretend the work of financial reform is done, when the so-called "too big to fail" banks are even bigger now than they were in 2008."
Warren said she hopes to raise $30,000, which is around how much money money Senate Democrats would lose if those corporations don't donate.
"Now let's be clear: $30,000 is a drop in the bucket to JPMorgan and Citigroup," Warren continued. "Heck, JPMorgan CEO Jamie Dimon makes more than $30,000 in just a few hours."
[Image via screengrab]
— —
>>Follow Andrew Desiderio (@forza_desiderio) on Twitter
Have a tip we should know? tips@mediaite.com