Trump Ally Roger Stone Said (Today) That Obama Birth Certificate Might Be Fake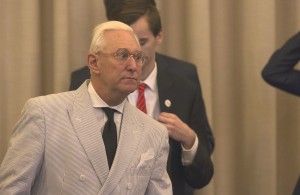 Even the very day the Donald Trump belatedly repudiated birtherism, his stalwart ally Roger Stone said in a radio interview that the candidate still was unsure about the president's place of birth and suggested that the birth certificate he released in 2011 might be fraudulent.
Speaking on Boston Herald Radio Friday before Trump's rally, Stone said, "He's got real concerns here. I think the bottom line is he doesn't know. He's not sure. That's not the same as 'I'm certain the president was born either in Hawaii' or 'I'm certain that he was not.'"
He added that "Obama's actions in this matter kind of I think lead [Trump] to that conclusion," without clarifying what those actions were.
Boston Herald Drive co-host Alex Reimer asked what more Trump needed to see beyond the long-form birth certificate. Stone replied:
Well there are many people who are far more knowledgeable than I am about the Internet and about computerized graphics who have a belief that the document that was produced is not real. I don't know. I'm not an expert on this.
In the same interview, Stone echoed a familiar talking point of Trump surrogates and allies, arguing that birtherism was no longer an issue and that the media would better to ignore it and also ignore the fact that ex-KKK leader David Duke is a huge Trump supporter.
"Most of this, of course, is a certified distraction from Hillary's health problems. I mean, all of a sudden David Duke is back in the news cycle. All of a sudden birtherism is back in the news cycle," he said.
—
[image: lev radin / Shutterstock.com]
Sam Reisman (@thericeman) is a staff editor at Mediaite.
Have a tip we should know? tips@mediaite.com