Trump Appointee Carl Higbie Resigns After Past Racist Language Exposed: Blacks Have 'Lax' Morals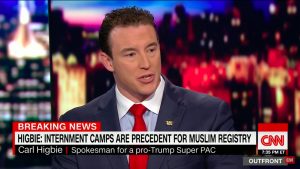 Carl Higbie, a Trump administration appointee, resigned as chief of external affairs for the Corporation for National and Community Service (CNCS) Thursday after his past use of derogatory language on the radio emerged from 2013 and 2014.
Higbie, a former Navy SEAL, made the cable news rounds during Donald Trump's 2016 campaign and joined the administration in August of 2017.
CNN is reporting that the audio, released by KFile, contains many racist, sexist, anti-Muslim remarks.
In a June 2013 radio appearance, Higbie said those who are Muslim "are screwed up in the head." He added:
"Go back to your Muslim shithole and go crap in your hands and bang little boys on Thursday nights. I just don't like Muslim people. People always rip me a new one for that. Carl, you're racist, you can't, you're sexist. I'm like Jesus Christ. I just don't like Muslim people because their ideology sucks."

"Well people are like, 'well, you can't hate somebody just for being Muslim. It's like, yeah, I can. Do you hate people who rape little boys? They say, 'oh, of course. They're just terrible people.' Well, yeah, most Muslims believe that to have sex with men is OK, which I don't like it all. But second off, it's the ideology of a child molester. The ideology of a Muslim is what I don't like. They are screwed up in the head and it makes, pisses me off."
Higbie used, on several occasions, racist language such as saying he thinks black people have "lax" morals back in December of 2013. In the same interview, he said that he believed that "breeding is a form of government employment" to black women:
"We're promoting birth control to a black woman because of the incredibly high rate of children born out of wedlock that are under-cared for or not cared for at all. The taxpayers are tired of supporting government checks going to these people who think that breeding is a form of employment. I'm sorry if black people are the majority of the targeted audience. They are, statistically they are."
In regards to his sexist language, Higbie used demeaning language towards Nancy Pelosi and Dianne Feinstein, calling the latter a "bitch":
"Nothing gets me going like Ted Cruz, when he went off on the Feinstein Bitch about the Second Amendment and he put her in her place. That was just fantastic. I can't stand that woman. She's another one. Her and Pelosi. I'd love to just take both their heads and smack them together a couple of times."
Other notable excerpts from the discovered audio include the following: Higbie saying that military members experiencing severe PTSD have "a weak mind," promoting shooting undocumented immigrants crossing the border saying, "you cross my border, I will shoot you in the face," and saying that gay people are "breaking the morals."
UPDATE – 9:45 a.m. EST: Higbie posted an apology on Twitter:
I'm sorry. I'm not sorry that my words were published, I am sorry that I said them in 2013. Those words do not reflect who I am or what I stand for, I regret saying them. Last night I informed the WH that I was resigning so as not to distract from POTUS' many success. #noexcuses

— Carl Higbie (@CarlHigbie) January 19, 2018
[image via screengrab]
Have a tip we should know? tips@mediaite.com