Trump Campaign Sends Out Fundraising E-Mail Hyping 'Sabotage' After Comey News Breaks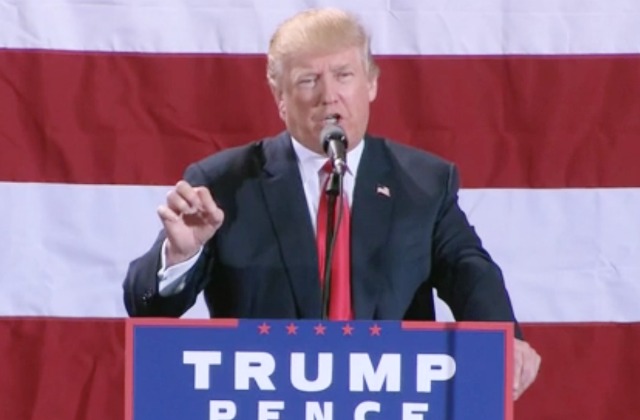 President Donald Trump's campaign sent out a fundraising e-mail on Tuesday ripping not just a favorite target — "fake news" from the media — but also "people within our own unelected bureaucracy that want to sabotage President Trump."
This fundraising email was sent out after the big news of a reported James Comey memo that said Trump asked him to close the Flynn investigation.
Several journalists spotlighted the new e-mail on Twitter:
Trump's joint fundraising committee is raising $$$ by saying bureaucrats are trying to "sabotage" Trump through leaks to "fake news" media pic.twitter.com/c7ytWXgfe0

— Brian Stelter (@brianstelter) May 16, 2017
WOW. Just out from Trump campaign subject lined "SABOTAGE" pic.twitter.com/w7xy0L47oF

— Zeke Miller (@ZekeJMiller) May 16, 2017
INBOX: Trump campaign FUNDRAISING off these latest scandals. Subject line is "SABOTAGE." pic.twitter.com/wXAGS07rB4

— Jessica Huseman (@JessicaHuseman) May 16, 2017
Trump campaign email just now. Rails against news reporters and government employees. pic.twitter.com/CsdOg2HK2R

— Jose Pagliery (@Jose_Pagliery) May 16, 2017
The fundraising pitch prominently featured a paraphrase from a February 2017 speech by Trump advisor Steve Bannon at the Conservative Political Action Conference:
Steve Bannon was right when he said, "If you think they're going to give you your country back without a fight, you are sadly mistaken. Every day is going to be a fight. That is the promise of Donald Trump."
The campaign e-mail closed out with a reference to their "drain the swamp" slogan, and emphasized that "President Trump has already started cleaning house, but every day will be an uphill battle — and we need to be prepared to go into the trenches to FIGHT BACK" (emphasis theirs).
[image via screengrab]
Have a tip we should know? tips@mediaite.com